The money tree is a wonderful and easy-to-care-for houseplant that's perfect for anyone who loves adorning their home or office with green indoor plants. Luckily, there are only a few key essentials when it comes to money tree care and they're very easy to adapt.
This indoor plant has been cultivated to feature a braided tree trunk, which adds to its appeal and unique aesthetic. Its thin branches and leaves grow outward, like a palm tree. They're also thought to bring good luck and positivity!
If you want to learn how to easily care for a money tree so you can enjoy is beauty, then this post has you covered!
Adequate Sunlight is Key to Proper Money Tree Care
Money trees are tropical plants that enjoy filtered sunlight. They don't want to be sitting in harsh light but they also need enough sunlight to look their best.
It's very similar to other houseplants in this regard and if you've ever grown a tropical plant such as the pothos plant or a bromeliad, then you won't have any problem understanding this plant's sunlight needs. The rule of thumb here is that filtered, indirect sunlight is best.
Also, your money tree will give you signs as to whether or not it's happy with the level of light it's receiving, so remember to pay attention to your plant!
If the leaves start to turn yellow, this is a sign that it needs more light. If the leaves are a rich shade of green, then this means it's happy with the amount of light it's getting.
A good practice with the money tree, as well as all other houseplants, is to rotate its pot every few weeks so that the entire plant gets even amounts of sunlight. This will help it grow lush and proportionate.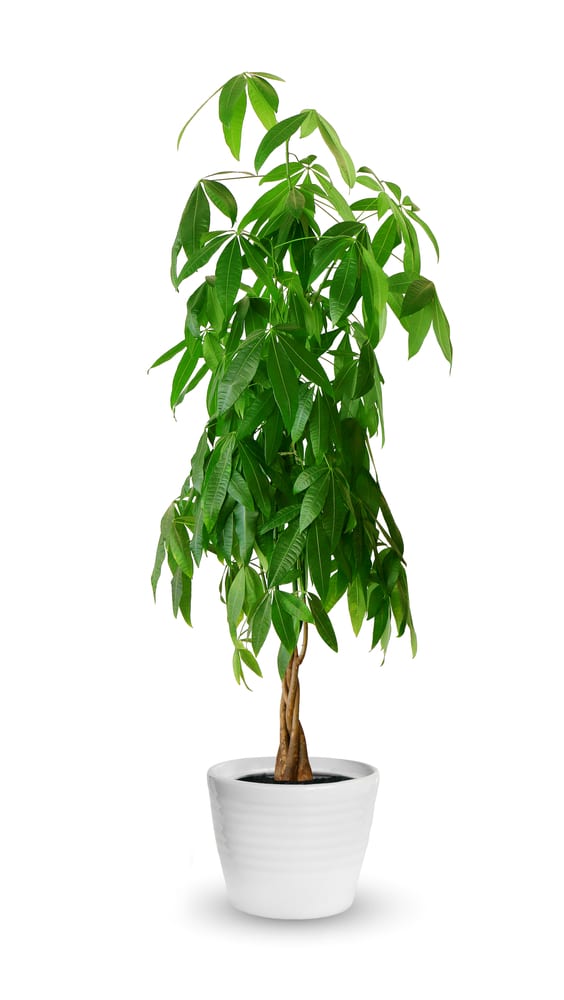 How to Water a Money Tree Plant
One thing you have to get right when it comes to money tree care is watering. Watering properly is critical to the health of your plant. Over-water it, and the roots will rot. Under-water it for an extended period of time, and it'll dry out and die. It's very similar to learning how to water your pothos plant.
To master watering, water the soil deeply every few weeks only when the soil is dry. Remember that the money tree is a drought-tolerant plant because it survives off sporadic rainfall in its natural habitat and then experiences weeks without water.
Good drainage is key, just as with succulents and other indoor plants. Good drainage helps prevent root rot which is why it's so important to use a pot with a drainage hole!

If your plant came in a decorative with no hole at the bottom, then you'll need to water your plant much more carefully and conservatively than you would if it had drainage.
Since there's nowhere for excess water to go, watering deeply is not an option here. Water only to moisten the soil and then let it dry out between waterings.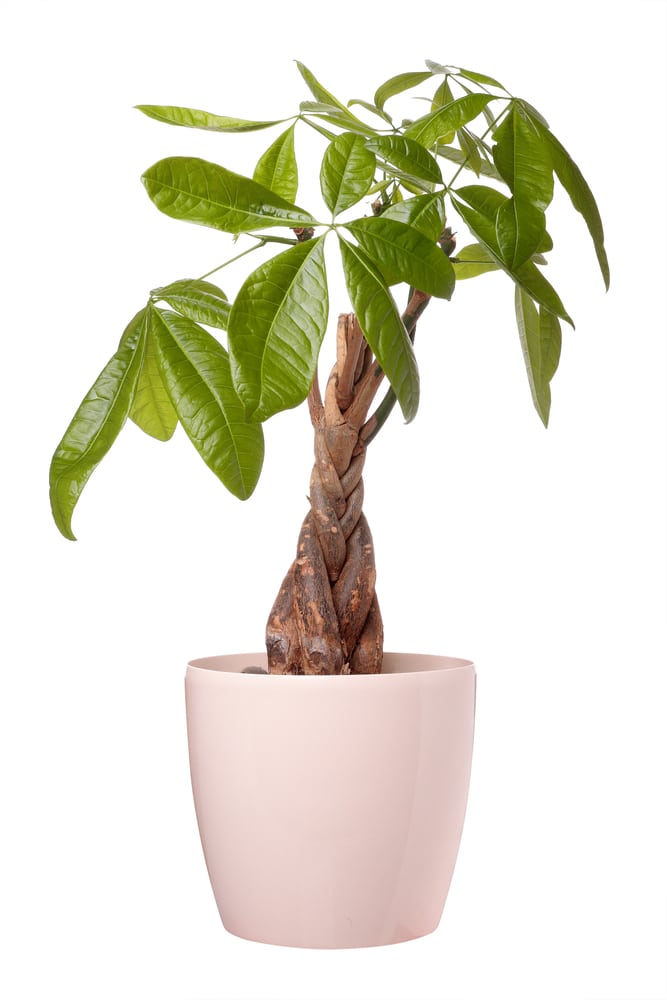 What Kind of Soil Does the Money Tree Plant Thrive In?
Not all soil types are created equal when it comes to proper money tree care. This lovely indoor plant prefers a well-draining soil that contains peat moss or coconut coir for some moisture retention.
To make your own soil mix, simply mix a little peat moss into your indoor potting soil. Peat moss and coconut retain water, which is helpful for plants that need to go a long time without water.
They'll retain enough moisture to keep the plant from getting dehydrated. You can, however, skip this extra since any good indoor plant soil mix will do.
Ideal Humidity and Temperature for your Money Tree
Money trees are native to Mexico and South America, so they enjoy a humid and temperate climate.
The ideal temperature for a money tree is anywhere between 65 and 80 degrees Fahrenheit. This is not a plant that does well in cold or hot weather!
Your plant will also thrive in indoor humidity levels of about 60%. If your home can't reach that humidity, then there are a few things you can do.
You can mist your plant regularly with a spray bottle to moisten the leaves or you can sit your pot above a shallow saucer or tray filled with pebbles and a bit of water.
This humidity tray will help bring moisture to the air and improve humidity levels around your money tree, just make sure the tray isn't overflowing with water because you don't want the bottom of the pot (the root system) to be sitting in water; this would cause root rot.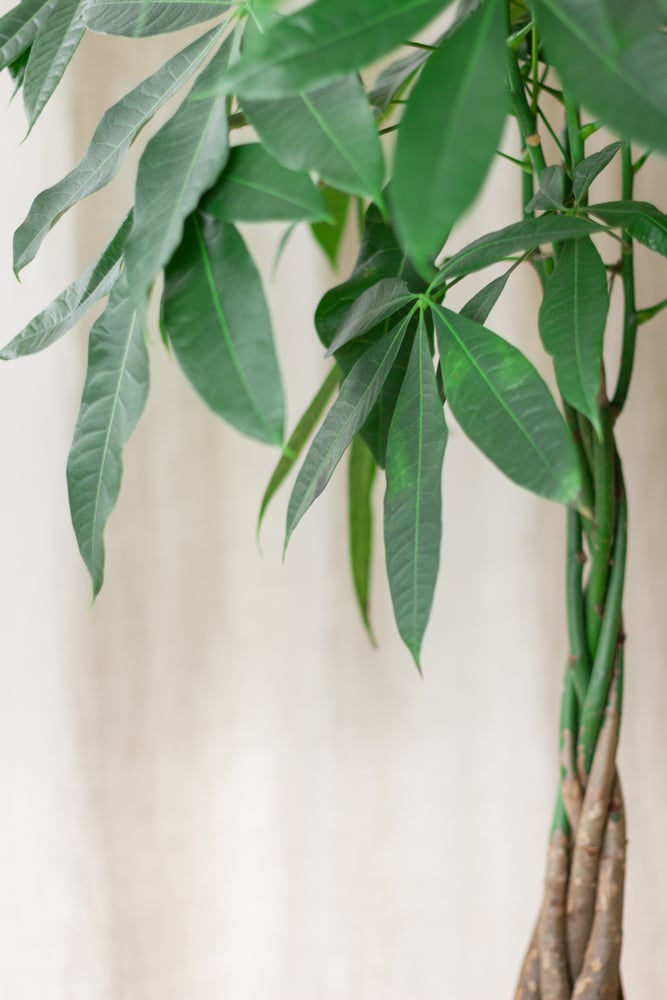 When and How to Fertilize a Money Tree
Money trees actively grow and produce new leaves in the spring and summer which is when you should fertilize your plant.
Use a liquid fertilizer, such as a liquid kelp fertilizer (it's great for indoor plants), and use it at half the recommended strength. You always want to make sure that the soil is wet before you add the fertilizer – never add fertilizer to dry soil.
Also, never fertilize your plant during the winter months, it simply doesn't need any extra nutrients because it's not actively producing new leaves; growth slows at summer's end.
Why is My Money Tree Dropping Leaves
It's normal for your money tree to drop leaves, especially when you bring it home from the nursery. A change in the environment, even a small one, will cause the plant to drop leaves. Not to worry., thought, the lant will acclimate and stop dropping its leaves.
Another reason is that you're not watering enough. Make sure to keep a regular watering schedule. You should water when half of the pot feels dry but don't let the entire pot go bone dry because this will stress out the plant.
Water deeply if the plant is dehydrated and it should stop dropping laves. Also, try misting it with a spray bottle because it might need a more humid environment than it's in right now.
These tips are meant to help you keep your money tree healthy and looking great! Always keep these top tips in mind and your money tree plant will reward you with its beauty year-round! And if you're looking for more houseplants to add to your collection, then I recommend looking at these posts about bromeliads and peace lily plants.
For related houseplant posts:
How Often to Water Chrysanthemums
How to Water Poinsettias: Care Tips for the Holidays
Types of Christmas Cactus Plants