It's that time of year when we all love to decorate our front porches with potted chrysanthemums alongside our favorite fall decor. Seeing mums at the garden center signifies the coming of fall for many of us and it's become a part of our must-have plants when the weather starts to cool.
Oftentimes, however, people end up killing their beloved mums without understanding what went wrong. Usually, it has to do with improper watering!
That's right, mastering how often to water chrysanthemums can play a huge part in whether your mums stay not just alive but looking beautiful for weeks on end during the blooming season.
In this post, we're going to cover how often you should expect to water this flower as well as what things can impact your watering frequency.

Factors such as weather conditions, pot size, and soil, and whether you're growing garden mums in your garden bed (also known as hardy mums), indoor mums, or potted mums.
The beautiful garden mums you see at the garden centers in late summer are the result of a lot of intentional care on the part of the grower.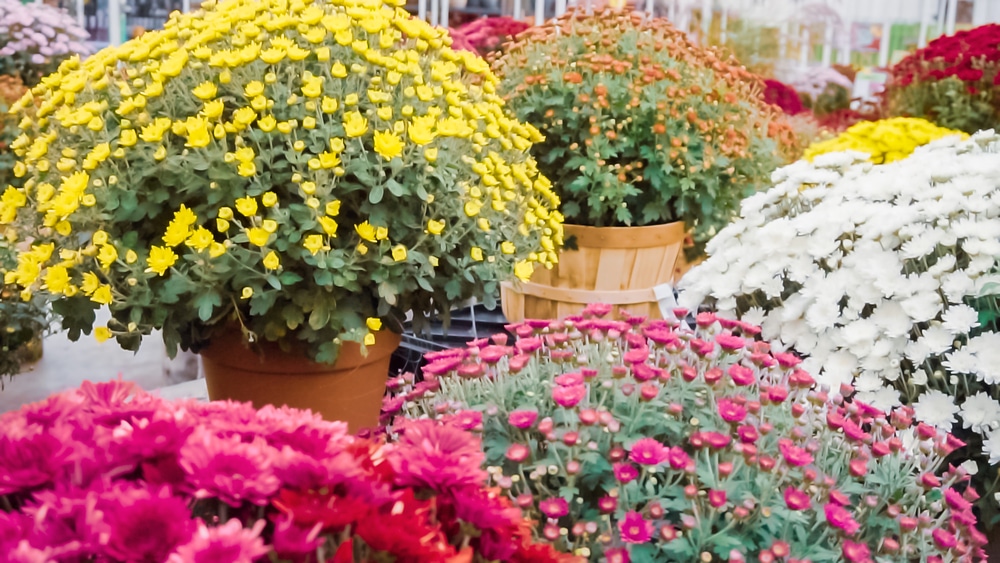 Think of it this way: garden nurseries are babying their mums by meeting and exceeding their needs.

These potted beauties are mostly grown in carefully-controlled greenhouses so they can be ready for the holiday season
They're definitely not being exposed to triple-digit heat!
This means the temperature is kept just right (no harsh sunlight or temps that can burn the leaves) in an effort to produce a beautiful plant to sell.
It's hard to compete with such ideal conditions at home when we can't control the weather or mother nature.
Therefore, we have to adjust to heat waves late into the year, which means we need to up our watering frequency and shield our chrysanthemums from harsh direct sunlight as best we can.
Aside from proper watering, there are a few shopping tips that'll help set you up for success.
How to Choose The Best Chrysanthemums at the Garden Center
If you're interested in fall mums that last for weeks during the blooming season, it's important to choose wisely while shopping for them as this can greatly help the longevity of your mums.
You can buy florist mums that are sold inside garden centers, flower shops, and supermarkets, or you can purchase hardy garden mums that are kept outdoors and are better equipped to deal with harsher weather conditions.
Usually, florist mums are grown as annual mums that people toss after flowering.

Hardy mums, on the other hand, are often grown as perennials that come back with fresh blooms next year.
You can toss these, too, if you have no desire to care for your chrysanthemums through the seasons.
Either way, for best results, choose plants that feature lots of closed buds, NOT flower blooms; this is the most important thing to remember when picking out the right plant to take home.

Try to avoid those early bloomers!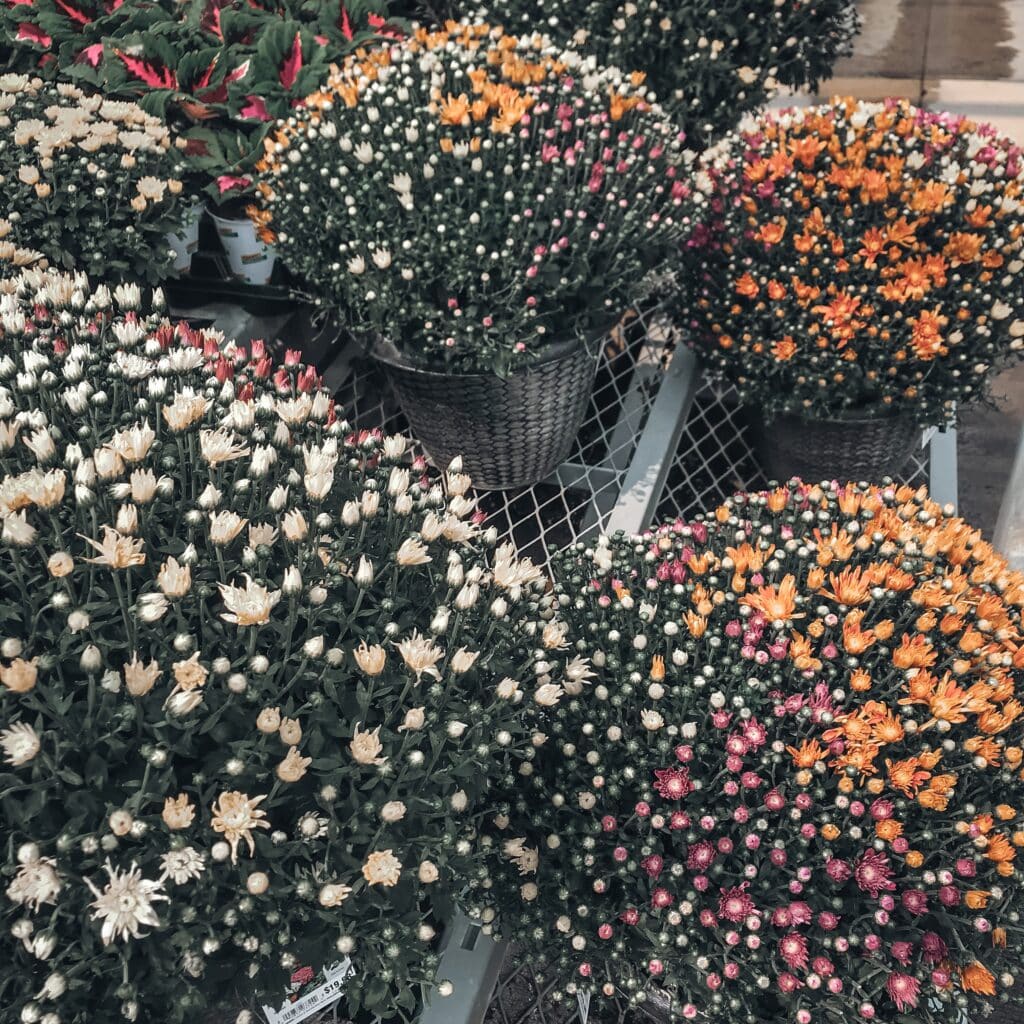 This way, you'll get plenty of time to enjoy the flower blooms at home.

The potted mums that are already in full bloom are not the best use of your money unless you only plan to enjoy them for a few days or need them for a special event where full chrysanthemum flowers are a must.
Also, stay away from mums that are full of dead stems and dead leaves; those have seen better days.

You want to aim for foliage that looks green and healthy and buds that appear tightly closed, which means they are waiting to open during the autumn season and even early winter months through new growth they're deadheaded once the flower turns brown.
Another simple tip is to get your mum plant from your local garden center; local garden centers are ripe with employees who have localized gardening advice.

Plus, you'll get to see how the garden mums perform in your particular climate.
Keep this in mind: the first week home with your mums is the most important: make sure to your plants ample sunlight and a lot of water to avoid the soil from drying out, which can shock a plant that's been well-cared for.

This is not the time to neglect your new flowers!
How Much Sunlight Do Chrysanthemums Need?
Chrysanthemums love sunlight; they're considered full sun plants. They need generous amounts of sunlight to produce beautiful flowers.
If they don't receive enough sunlight, the stems will grow tall and leggy (just like succulents!) and they'll be unable to produce enough buds to put on a good show.
Aim to give your mums at least 6 hours of sunlight every day.
TIP: This is why I don't buy my mums until at least late September; giving them sun in August or early September would scorch the leaves because it's simply too hot outdoors in most areas!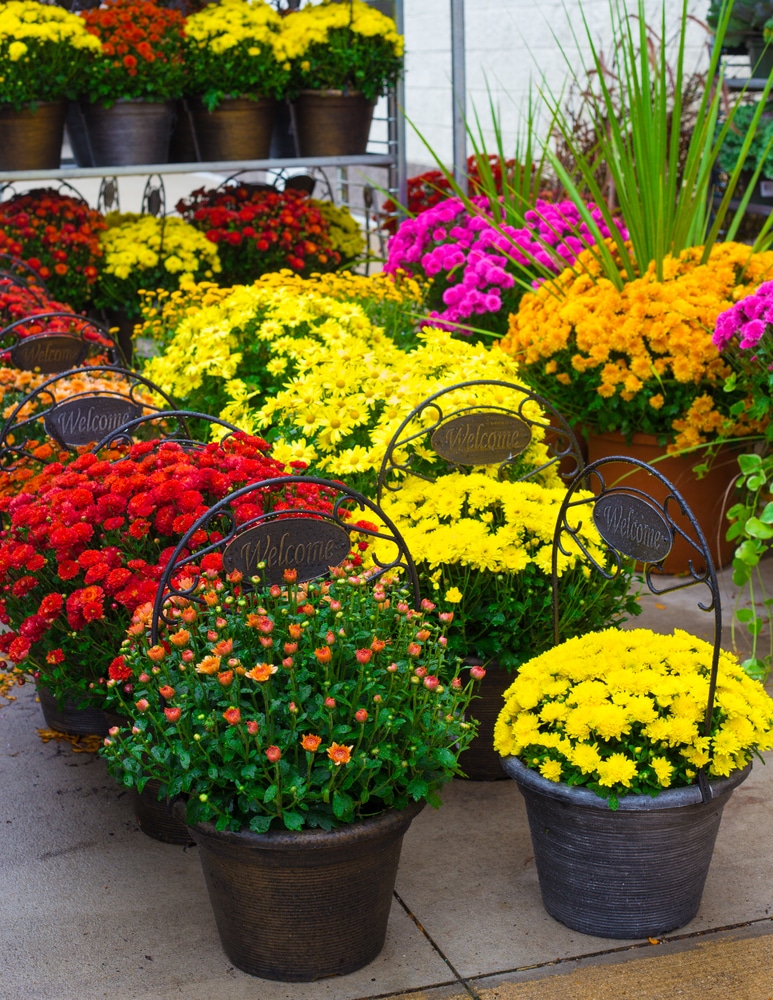 Always place your pots or plant your mums in a sunny location, whether you're growing these beautiful plants indoors or outdoors, otherwise, you're not going to be able to enjoy the type of blooming plants you're imagining.
Too much sun, especially in warm temperatures, can sunburn most plants, so can an eye on these beauties.

If you start to notice brown, crispy leaves, then your plant is likely stressed from being exposed to high temperatures.
The Best Pots and Soil for Chrysanthemums
Most people grow mums in pots because it's the best way to decorate the immediate area around your front door.
Believe it or not, pot size plays a large role in when and how you water chrysanthemums.

If you're planting your mums in large pots, you'll be able to water less often than you would if they were in smaller pots because large pots can hold more soil and thus more water.
Smaller pots, on the other hand, can't hold as much water.
You can plant your mums in any pot but they perform very well in terra cotta pots, which wick away moisture and allow for good airflow.

Plastic pots and nursery pots, while inexpensive, retain heat, which is not ideal for end-of-summer temperatures.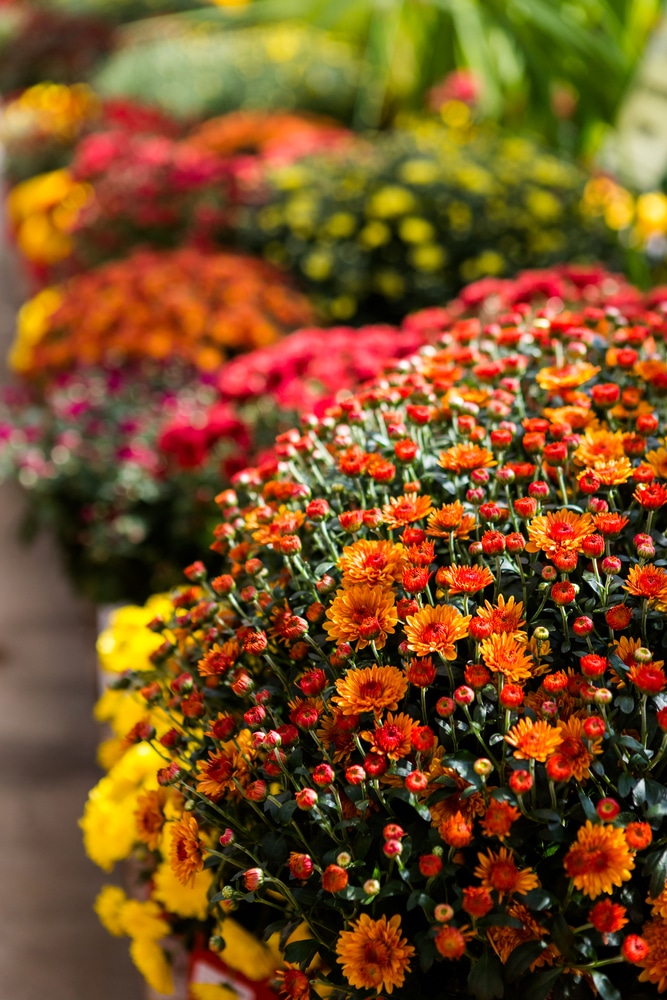 Whichever pot you choose, make sure it has a drainage hole.

Drainage holes allow for excess water to flow out of the pot, preventing root rot.
If you choose a pot without a drainage hole, then you'll have to be mindful to not over-water your plant.

The last thing you want is for your potted mum to sit in a pool of water for an extended period of time because this will cause the root ball to rot, which will kill your plant.
You need to give your mum enough water to wet the soil but don't allow water to pool to the sides of the pot.
As far as soil goes, mums perform best in well-draining soil.
To provide better drainage in your garden, mix in some handfuls of organic material or compost several inches deep into the planting hole (about 8 or so inches).

Also, working with a quality potting soil mix helps ensure better drainage.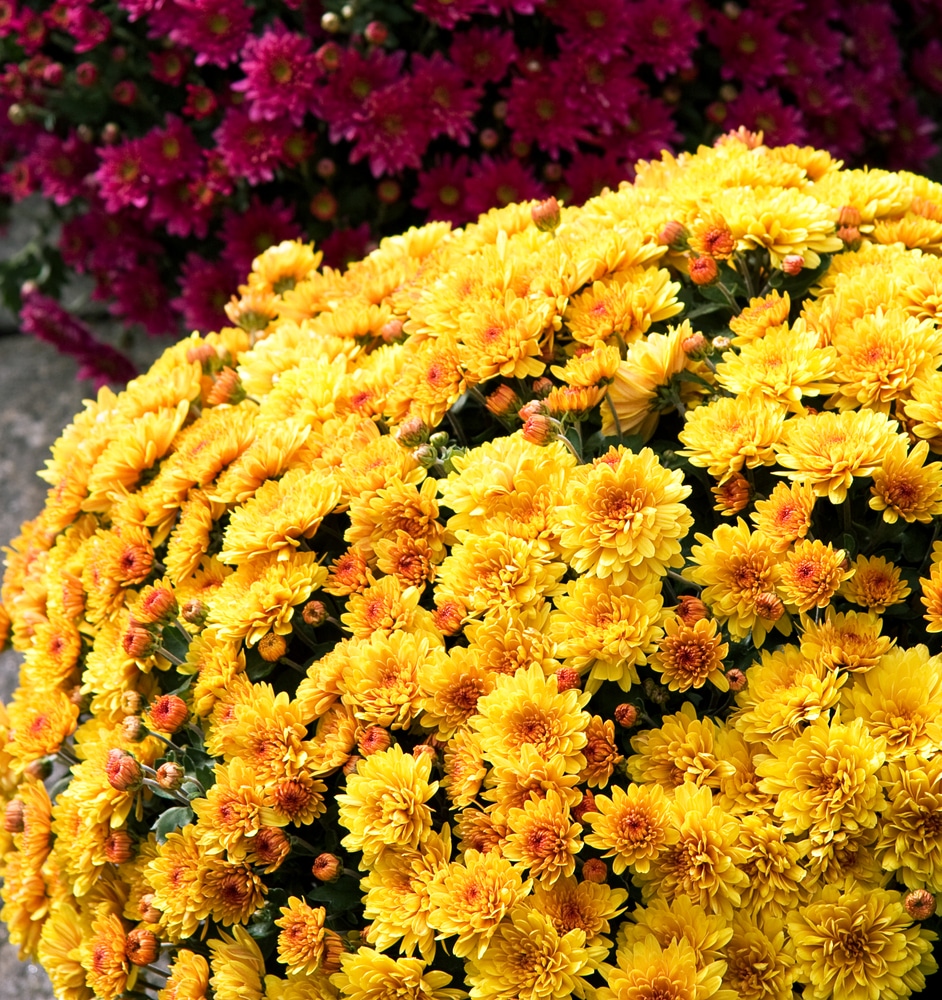 Be gentle with the root system when you take your plant out of the nursery pot for planting.

Massage the root ball and gently spread out the roots, being careful not to tear them too much.
Chrysanthemums have a shallow root system and this makes them susceptible to weeds, which will try to compete with them for sun and water.

Try your best to be diligent and prevent weeds from overtaking the area.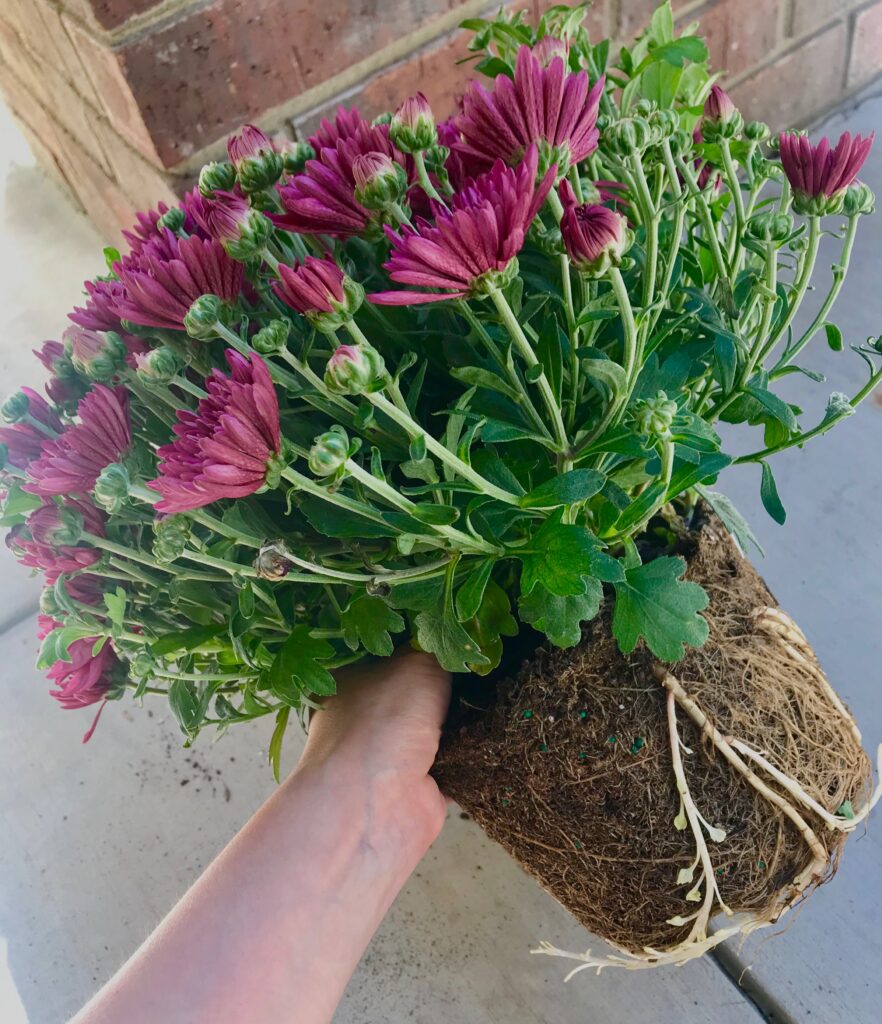 Fertilizing is good for mums but only in the springtime, not the fall. To fertilize, use a slow-release fertilizer or liquid fertilizer up to twice a month until the fall season begins.

This will help the plant gather the nutrients it needs to produce flower buds.
Watering Your Potted Mums and Flower Beds
Whether you're growing your chrysanthemums in the ground or in a pot, this plant needs plenty of water to look its best.
It's a good idea to keep the soil consistently moist to the touch, especially during the flowering period; it's a very important part of proper care for all chrysanthemum varieties.
If you water consistently and generously, you stand a better chance of enjoying your mums for several weeks.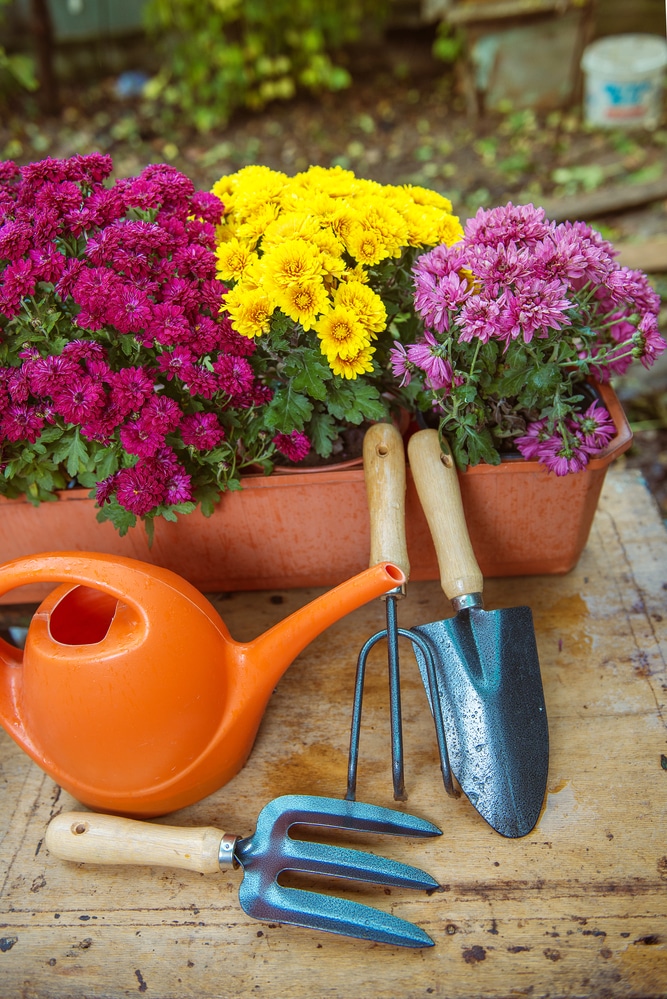 How much water to give chrysanthemums depends on whether they're getting lots of sun or partial shade.
If your plant is in a spot where it receives several hours of shade in the afternoon, then you'll water it less often than you would if it sat in full sun all day.
If you have good drainage, you don't have to worry about the actual amount of water you give your plant.

Simply water it until you see water drain from the bottom of the pot.
To water the mums you have planted in the ground, give them about an inch of water a week, at least.

If you see the soil dry out quickly, make sure to increase your watering frequency to twice a week, or three times a week, especially in warmer temperatures.
This is where being observant will pay off. You may find that you need a few inches of water, not just one.
It's also very important to water at the base of the plant.

You can avoid pesky issues and plant diseases such as powdery mildew if you avoid watering the foliage and flower buds directly.
It's the dry soil that needs moisture, not the leaves, so skip the overhead watering and water at soil level, instead.
During the fall season and in colder climates, you'll probably be able to cut back on your watering frequency as plants adjust to cool temperatures.
I hope you've learned all about when and how often to water chrysanthemums with post; all that's left is for you to go out and look for a few to bring home!

We've also got more info to help you understand how to care for potted garden mums this year!