Dear etiolation: why do you mess with my perfect succulents!?!
I think anyone who has ever grown succulents can relate to that question.
We all love succulents that are fresh out of the garden center, with their perfect, compact shape. They're practically pieces of art, all unique in color, size, and form.
I admit I usually want them to stay that same shape and size forever, but plants are living beings and that means they're going to grow as long as their needs are being met. If they're not growing, they're dying.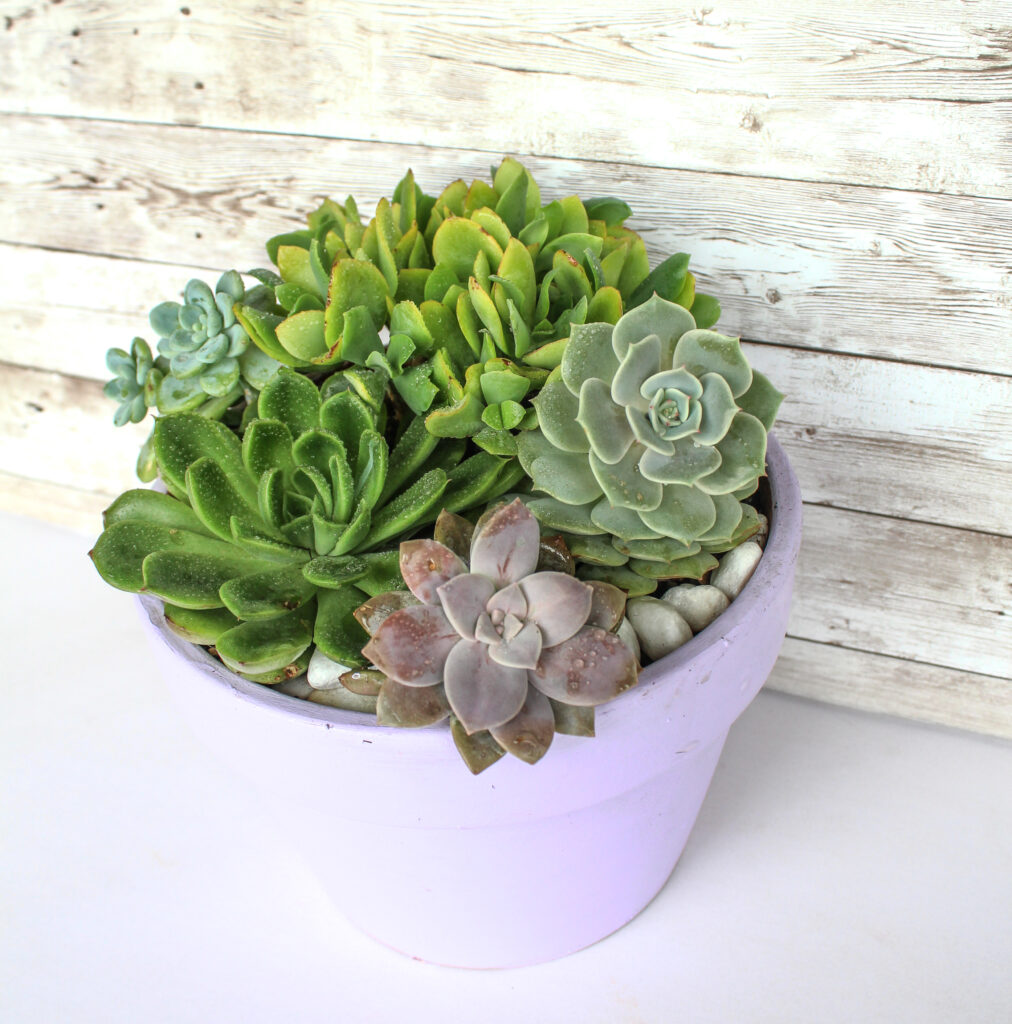 Most of us understand that succulents need sunshine to survive, but unfortunately, sometimes they these hardy plants don't get as much sunlight as they need, and THIS is the moment in which they begin to lose their shape.
It's a process called etiolation. Simply put, etiolation refers to a plant stretching out in search of sunlight.
As they stretch out, they start to appear "leggy", with large chunks of stem in between each leaf. Or, it can make rosette-shaped succulents stretch outwards, which makes them lose their rose-like appearance.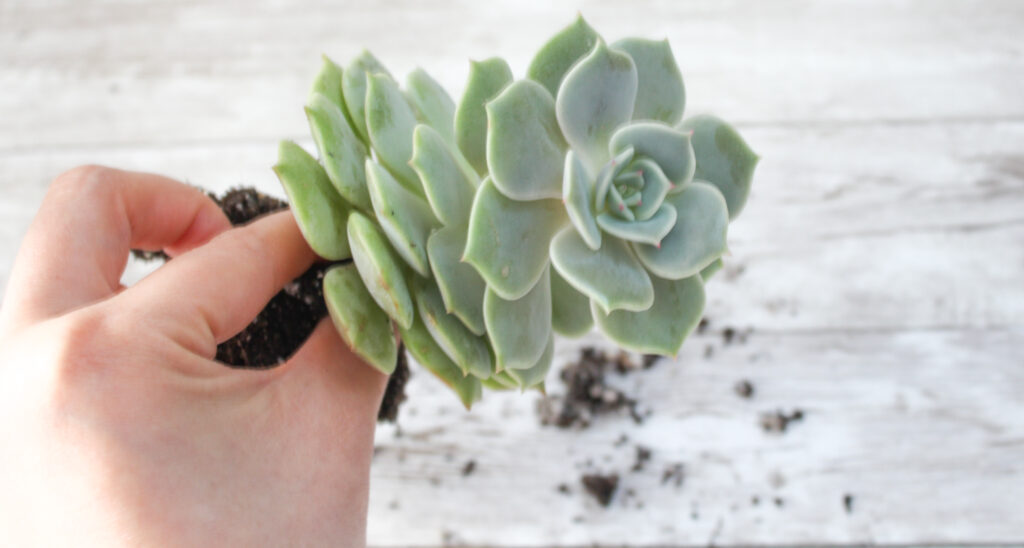 You see, succulents are smart. If they're not receiving adequate amounts of sunlight, they'll literally move towards the nearest light source to get the sunlight they need.

Since they can't move their pot themselves, they'll move their stem and leaves. It's actually pretty neat.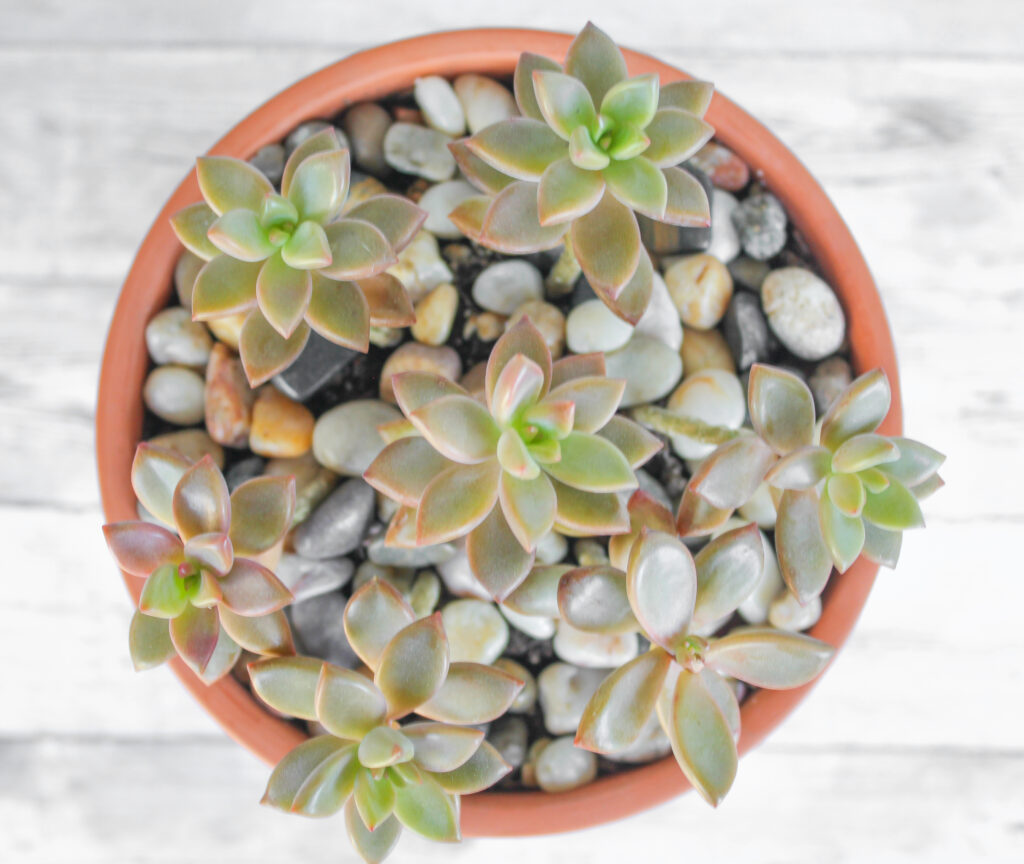 But here's the good news: it's an easy problem to address. What your plant needed all along was more sunlight exposure.
Etiolation actually reminds us to place our succulents in a sunny area of our home. If you don't want stretched-out succulents, pay attention to your plants.
If something doesn't look right, try to address the problem quickly. That's my rule of thumb when it comes to growing succulents and cacti.

I advise you to take note of your plant's shape when you get a free moment. Are the leaves starting to stretch themselves outwards?

Is your succulent starting to grow leggy, with large pieces of stem growing between the leaves? This is a sign of etiolation, and you need to act fast if you don't want it to continue.

You see, once etiolation happens, there's no going back to the original shape. You can move your succulent to a sunnier spot so that it doesn't continue to stretch out, but it will never revert back to what it was when you purchased it.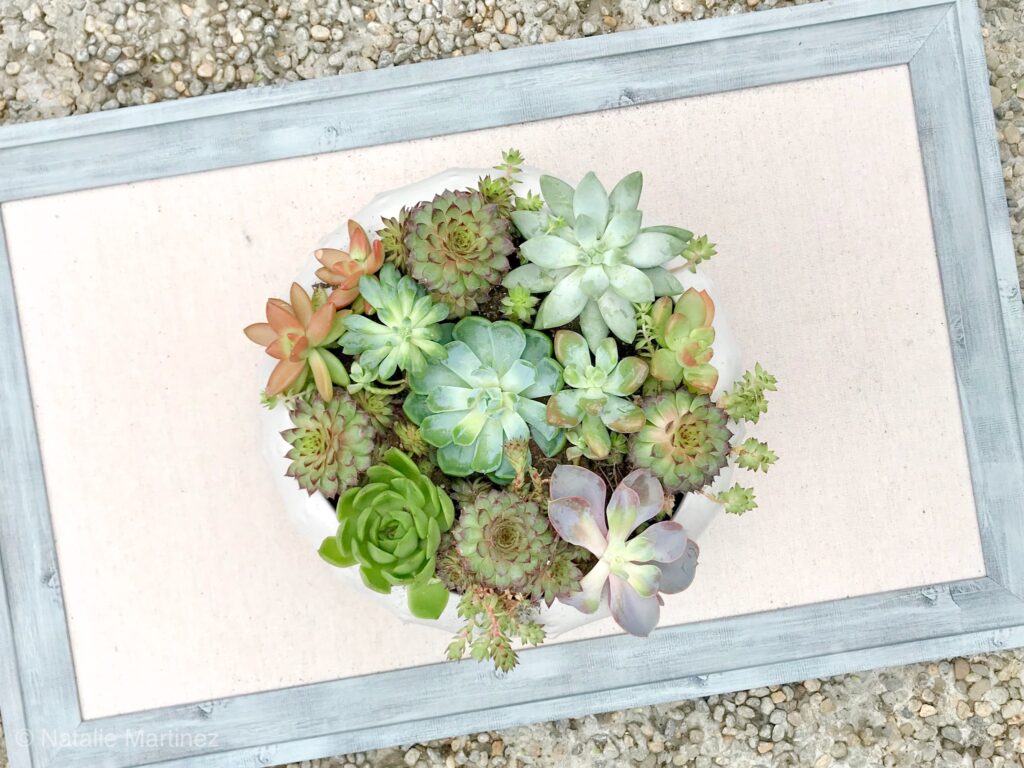 And trust me, I know how frustrating that is! I too wish that etiolation was reversible. That would make growing succulents even easier than it already is.
Fortunately, succulents can be propagated, which means you can take your succulent apart, propagate it, and get new babies out of your original plant in just a few months time.
In fact, that's what I do with succulents that have grown leggy or unrecognizable (lol). It gives me the opportunity to multiply my succulent collection without having to spend any additional money. That's a win in my book!

So if you're not happy with what etiolation has done to your succulents, you should give propagation a try. (If you want a step-by-step guide on how to propagate succulents, I wrote a propagating post on my gardening blog; I think you'd find it helpful!)
How Much Sun Do Succulents Need?

That's a great question. Succulents love the sun, but they don't want to get burned by it. They typically need about 6 hours of sunlight each day.
Indirect sunlight is usually better, especially during the summer when high temperatures can scorch and sunburn succulents.

You might be wondering what I mean by indirect sunlight.

Think of a spot in your home that gets lit up by the sun's rays thanks to a nearby window or glass door. That spot stays sunny for hours each day, right? That makes it an excellent spot for your succulents.

Place your succulent planters on a dining table (like I did with my Christmas tablescape), end table, coffee table, kitchen counter, and even on the floor, as long as it gets access to bright light.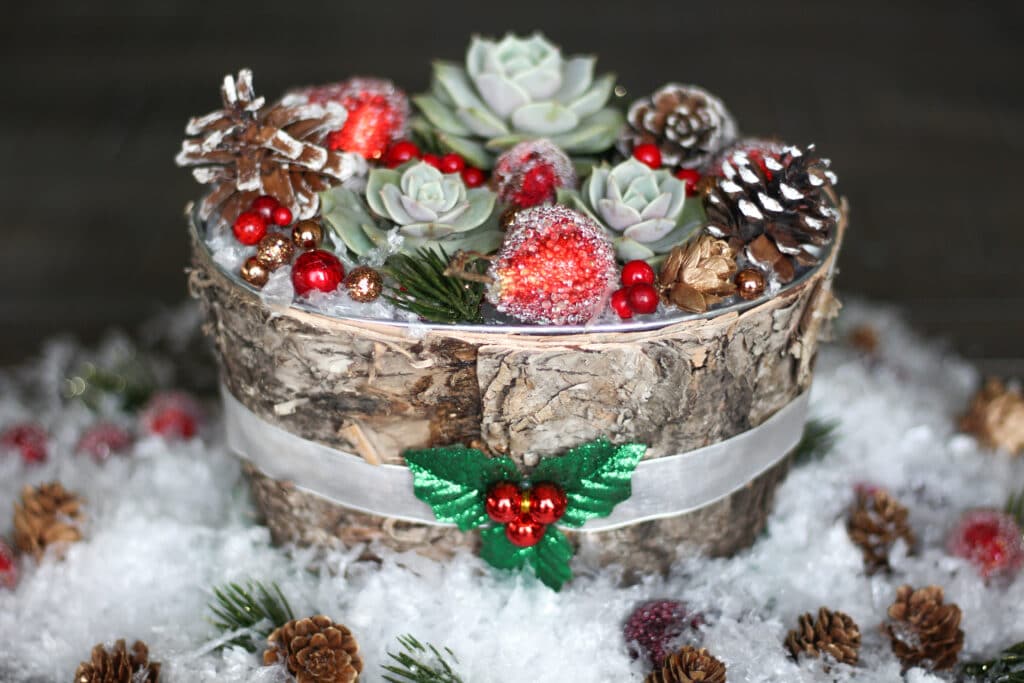 The spot you choose should be at least a few inches away from the window so that the sun doesn't harm the plant on a hot day.

As I stated above, your succulents will let you know if they're getting enough sun, you simply need to listen to them. In gardening, it's always best to try to address the problem when you first notice it.
Paying attention to your plants will reap you healthier plants, whether it's your succulents, houseplants, or garden flowers.

Is my Stretched Out Succulent Going to Die because of Etiolation?

No! Don't worry….your succulent is not going to die because it stretched out due to etiolation.
You simply need to move your plant closer to a light source so it can continue to live and grow.
If, however, you don't move it to a sunnier spot, it will eventually die due to lack of nutrients.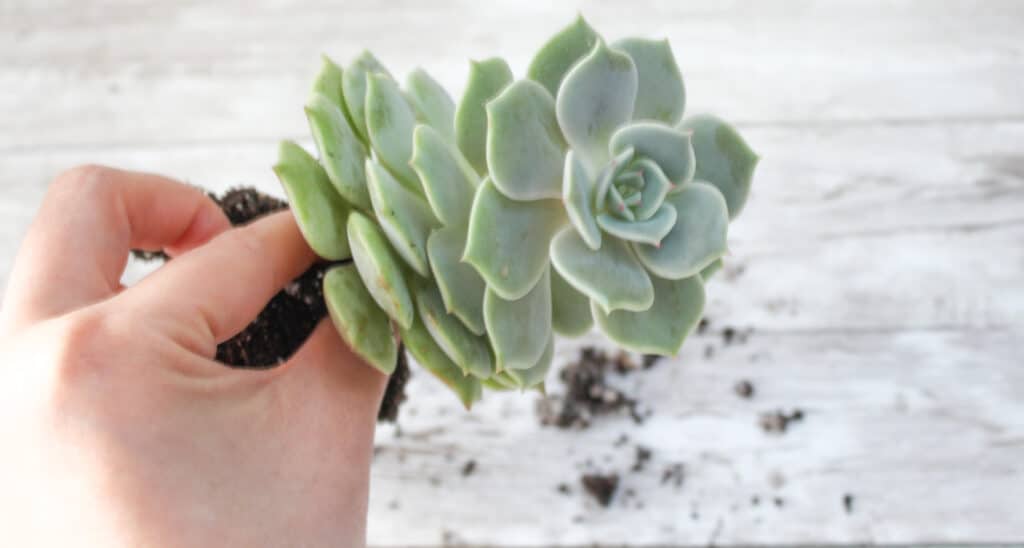 In fact, leaving it in a place that's too covered by shade can pose multiple problems.
Since the sun helps evaporate water from the soil, leaving a succulent without this light source may jeopardize its roots system and cause it to rot from too much moisture.

What To Do With a Stretched Out Succulent

If you don't want to keep your leggy or stretched-out succulent, try propagating it instead of throwing it out. This way, you'll make use of the succulent you paid good money for and you'll also end up with succulent babies in a few months!

I have an in-depth post about propagating succulents, here, but I'll give you the super-simple version here:

-Remove your succulent from its pot
-Proceed to gently tear each leaf from the stem, making a clean cut. You want your succulent to look like the photo below. See how it's a straight line without any jagged edges? This is what you should aim for, otherwise, the leaf will never grow roots.

-Set the leaves aside and out of direct sunlight so that the ends of the leaves can callus over in a few days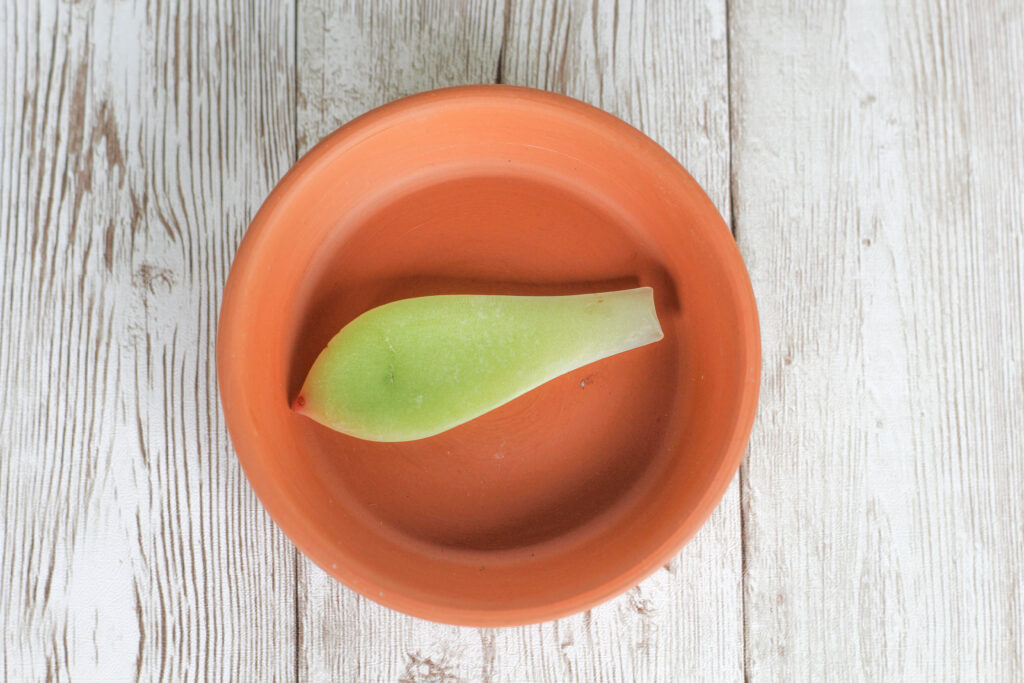 -Once calluses have formed, place the leaves on top of a tray of soil, not in the soil.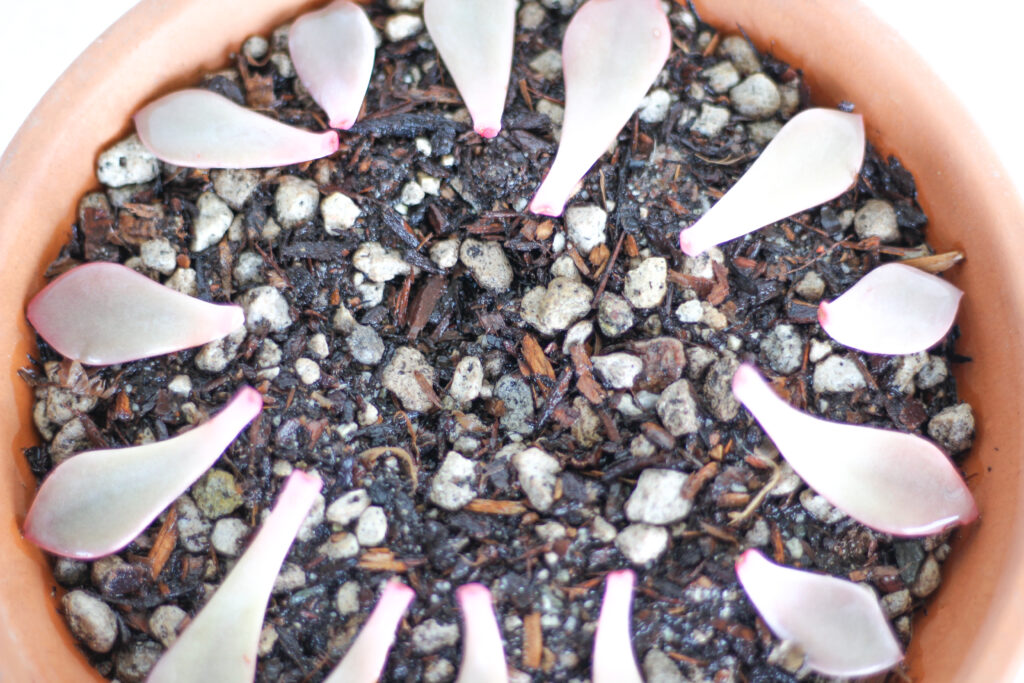 -Spritze the leaves with water every day or every few days
-In a few weeks time, roots will start to grow from the end of the leaves
-In a few more weeks, you should start to see succulent babies form out of those roots. They'll look like little replicas of the parent succulent.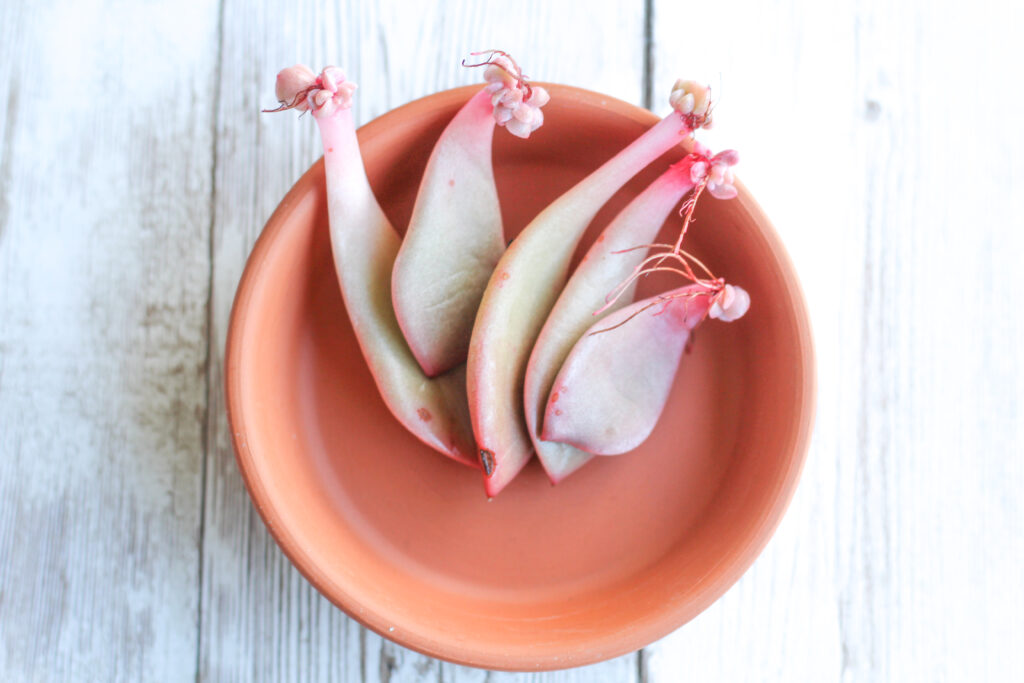 -Once the succulent baby is about a quarter large, plant it in a small pot as you would any other succulent and voila – you just successfully propagated a succulent!
Important notes: Not all leaves will form roots, so don't worry if they don't. Also, not all leaves that form roots will sprout a succulent baby. That's ok too. Simply discard the leaves if they don't end up performing. I usually have about a 60% success rate with the leaves I do propagate, which I think is pretty good!
I've also had success with simply setting leaves aside (away from direct sunlight) and letting them do their thing without any help from me. Many of them did grow roots and succulent babies! It's pretty miraculous.
Propagation is one of my favorite things to do in the garden. It's an easy process, and it's perfect for those who love having something to nurture and care for!
So please don't let your stretched-out and leggy succulents stress you out- it happens to everyone at some point!
Just know you have two options when etiolation happens: you can either learn to love your plant's new shape OR you can create tiny plants from that single succulent. No losses there!

For more on succulents, give my How to Care for Succulents post a quick read!