During the end of the year, the Christmas Cactus plant starts making its appearance around garden centers and grocery stores around the country.
This flowering plant has such a unique look, with its long-armed stems that droop and form flower buds at the tip; it's almost as common as poinsettias during the holiday season because unlike most plants during this time of year, holiday cacti actually bloom!
The good news is holiday cactus plants are easy to find and are also inexpensive. You can find them in several sizes, too, from two-inch pots to much larger pots that are several years old.
Luckily for us, they are long-lived plants that also have a long blooming season.
While a wildly popular succulent, there is more than just one type, and believe it or not, they're not all called Christmas Cactus!
In fact, the cactus you've been referring to as Christmas Cactus is probably a Thanksgiving Cactus that shows up in stores around November, like the photo below.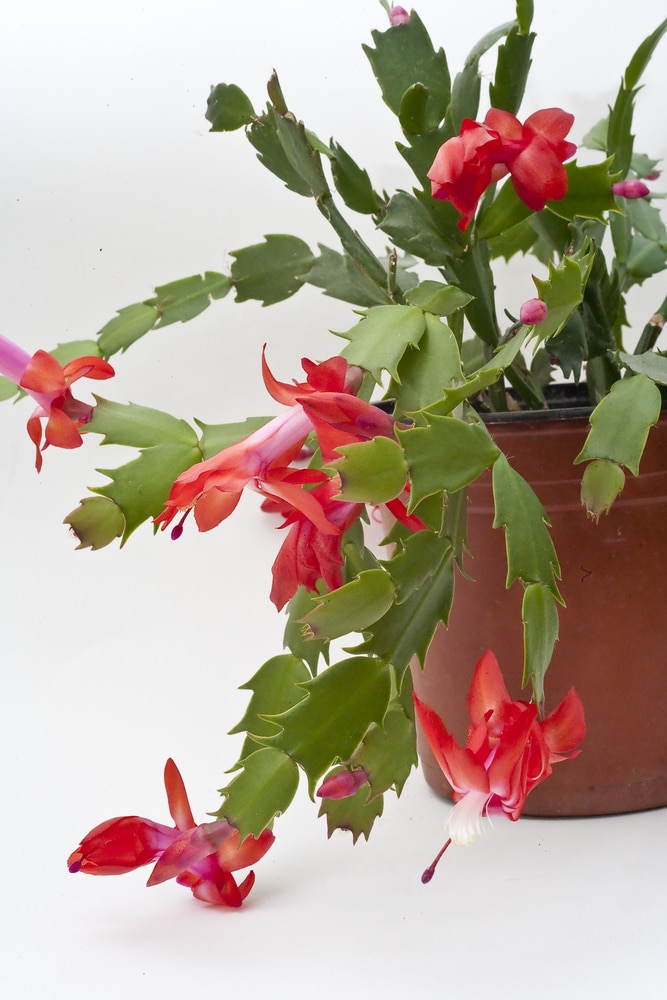 Yes… Thanksgiving cactus is often mistaken for Christmas cactus because that name is far more commonly known.
In actuality, there are 3 types of Christmas cactus and they're referred to collectively as "Holiday Cactus". There are a few subtle differences between the different types but luckily for us, they all share the same basic care needs.
They're named after different holidays (Thanksgiving Cactus, Christmas Cactus, and Easter Cactus) because they bloom around these holidays. Pretty neat, right?
The main differences between the different types of Christmas cactus actually lies in two features: 
They all bloom at different times of the year, so their bloom time is unique to each other.
The shape of their leaves are distinct: their leaf nodes are shaped differently! That's the easiest way to differentiate them.
Now that you know that there are different types of Christmas Cactus, let's delve further into the subtle but important differences between these three tropical plants!
Three Different Types of Christmas Cactus: Common Names
Thanksgiving Cactus / Thanksgiving Cacti
Thanksgiving cactus plants aka Schlumbergera truncata can be bought around early fall to late fall, just in time to ring in the Thanksgiving holiday in the United States.
They are the most popular holiday plants during this time of year, along with chrysanthemums.
Thanksgiving cactus blooms are generous and unique; they bloom at the end of the last leaf segment, and droop downwards, making it one of the most interesting succulents and houseplants you can own.
Their leaf segments are quite distinct and they're sometimes referred to as crab claw cactus or crab cactus because their leaf ends feature sharp, pincher-like edges. You'll want to be careful when touching them!
You can find Thanksgiving Cactus with flower blooms in different colors including red, pink, and purple. You'll usually enjoy their blooms around mid-November through late December.
Their flower blooms grow horizontally from the tips of the stem segments.
Christmas Cactus / Christmas Cacti
Christmas Cactus aka Schlumbergera bridgesii is the most widely known holiday cactus. The lifespan of Christmas cactus luckily has nothing to do with its blooming period.
This succulent is just like the others in that it can live for several years, even decades if properly cared for. It can be found in stores around early December and it blooms just in time for Christmas through early February.
The Christmas cactus blooms are bright and stunning. It can be found in colors red, white, and even yellow. If your Christmas decor theme is "white Christmas", then a Christmas cactus plant with white blooms would be an excellent choice!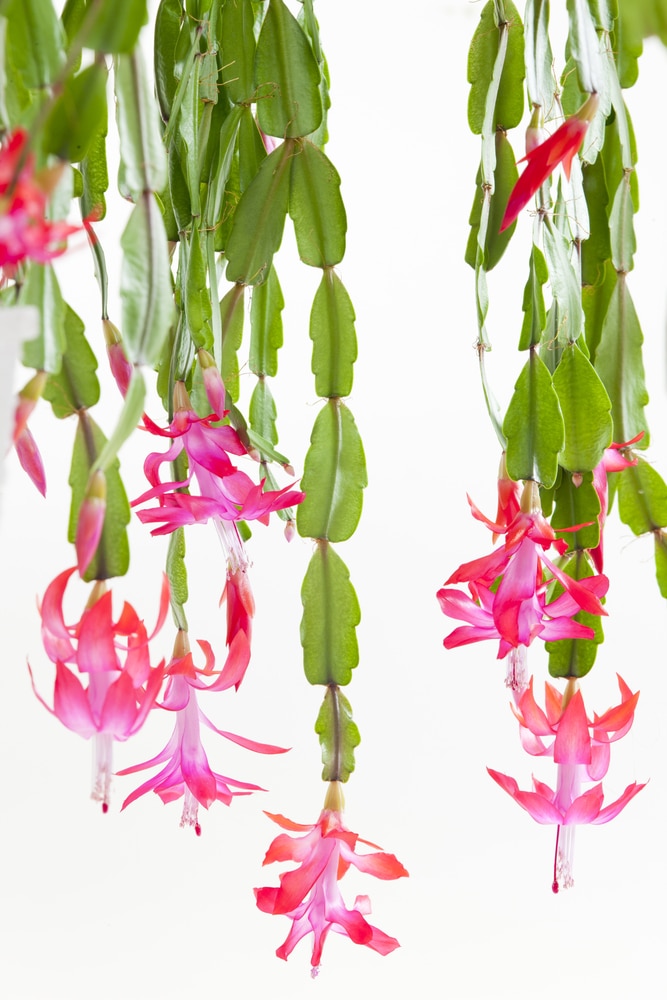 The flowers bloom on this beauty droop and face downwards on the leaf stem, like fireworks! It's one of the best plants to own this time of the year and it's also easily propagated.
They feature flattened leaf segments that are more rounded than the Thanksgiving cactus but still have some distinct edges.
Easter Cactus/ Easter Cacti
Easter cactus aka Rhipsalidopsis gaertneri leaves are distinct from both the Thanksgiving cactus and Christmas cactus in that the leaf segments don't have pointy edges like the Thanksgiving and Christmas cactus leaves.
Instead, they have very rounded edges, as shown in the photo below.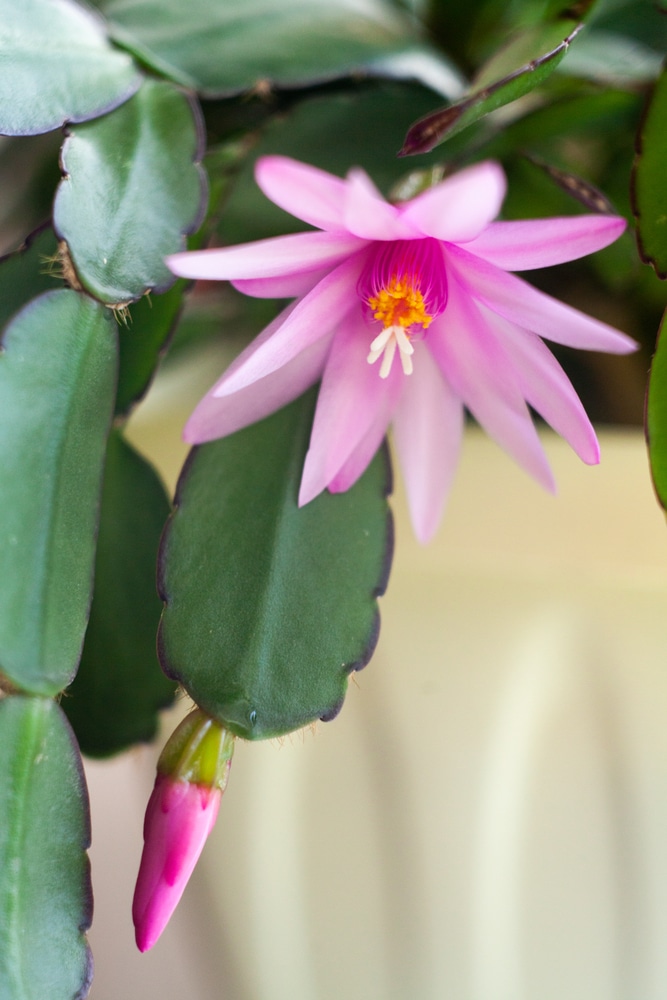 Also unlike the other two types of Holiday cactus, Easter cactus blooms between early spring and late spring, just in time to celebrate Easter, hence its popular name.
The bloom period is anywhere from February to May. The flower blooms are also different in that they're shaped like trumpets.
Easter cactus can be more finicky than the other types of holiday cactus; don't let the soil dry out for too long or you'll risk losing your flower buds prematurely.
Simple Care Tips for Christmas Cactus Types
The best way to keep your Christmas plant alive through the years is to care for it properly because it does have unique needs.
The different types of Holiday Cactus are easy to care for but they require certain things to produce their blooms, so they're not quite as low-maintenance as most other succulents.
This is why it's important to know about their care needs before bringing them home.
How Often to Water Holiday Cactus
While called a cactus, the holiday cactus isn't as drought-tolerant as your usual cacti. In fact, it needs to be watered regularly. It's a tropical cactus, after all, and it's native to South America.
If it doesn't receive enough water, the stems will become wrinkled. It doesn't like to sit in soggy soil, however, so make sure your pot has a drainage hole.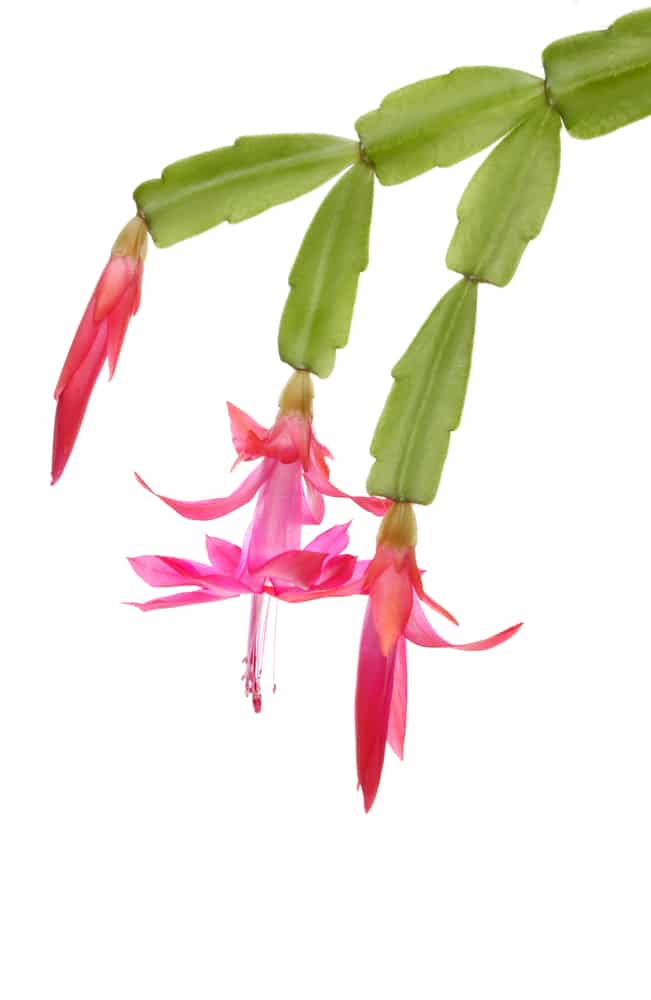 During the hot summer months, you'll need to water your plant about two to three times a month, especially during heat waves and if it gets a lot of bright light or direct sunlight.
It does appreciate a short period of dryness between waterings, so always make sure to check the soil for moisture before you water.
If the soil feels dry when you stick your finger into it, it's time to water generously until water seeps out through the drainage hole.
Sunlight & Humidity Needs of Holiday Cactus
Holiday Cactus loves humidity. High humidity is key to keeping it looking great, so if you use your heater often, then you'll need to keep an eye on the humidity levels inside your home, as heaters tend to dry out the air.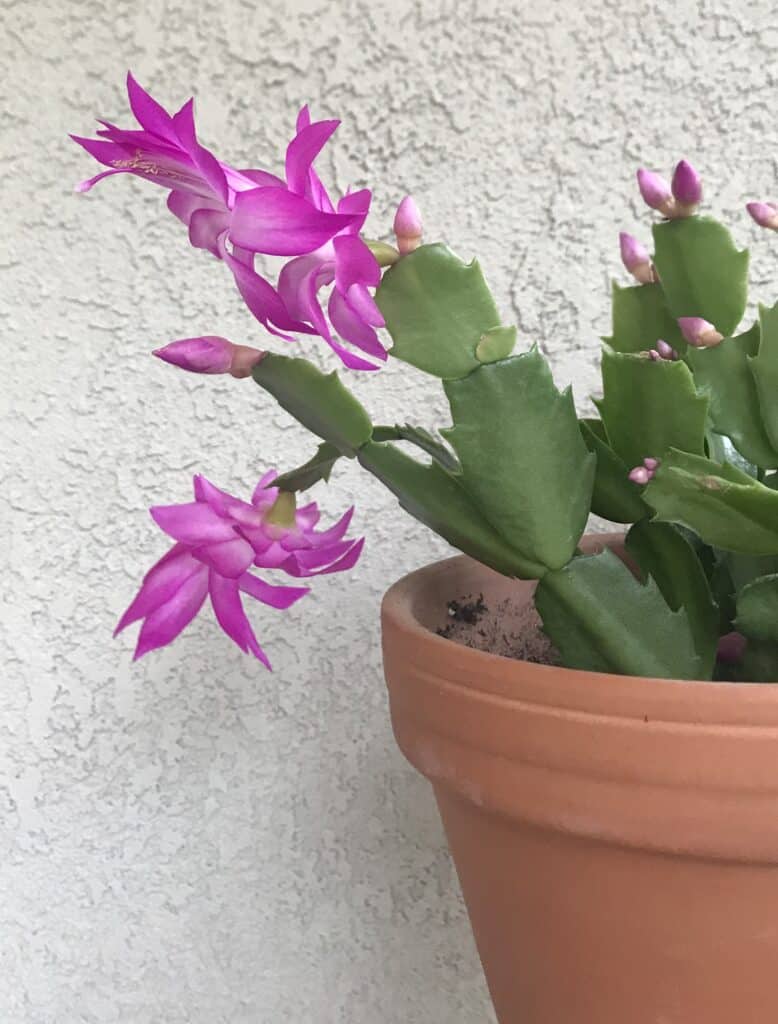 This isn't a huge problem, though: just mist your plant with water using a spray bottle every few days. You can also place the pot on top of a shallow tray filled with pebbles and a little water.
The water will evaporate into the air, increasing the humidity around the plant.
This trick works for any humidity-loving houseplant.
During the active growing season (April to September), Holiday cactus enjoys high temperatures between 70 and 80 degrees Fahrenheit. Then, once buds start to appear, the plant requires cooler temperatures in order for the buds to bloom and flower.
It thrives on low night temperatures between 55 and 65 degrees Fahrenheit.
Also, the plant requires 12-13 hours of complete darkness for the buds to bloom. Otherwise, your buds will simply fall off the stem before ever blooming.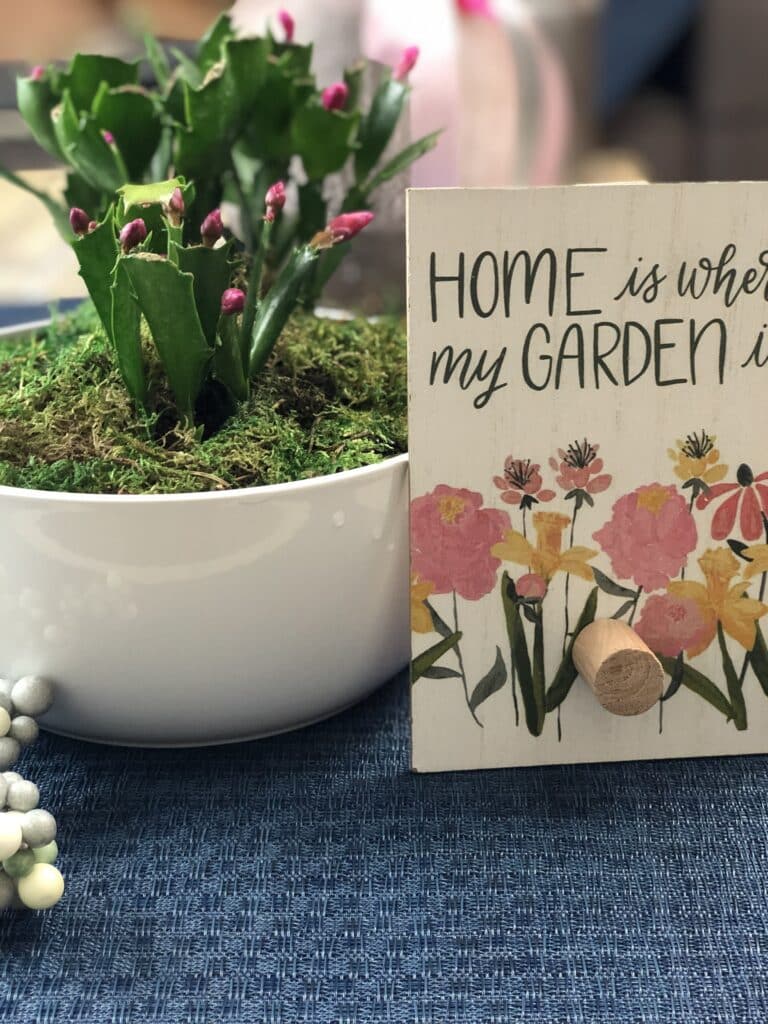 To achieve this, keep the plant in a dark place that is never exposed to sunlight or heating vents, like a closet in a dark room. Changes in light and temperature can cause the plant to drop its buds.
Looking out for Pests on your Holiday Cactus
Keep an eye out for spider mites and fungus gnats. Fungus gnats could be a sign that you're overwatering, meaning you're watering far too often and not letting the soil dry out between waterings.
Stop watering so frequently and the gnats should go away on their own.
To deal with pests like mites and mealybugs, spray the plant with a solution of water and alcohol. You may need to do this several times to completely get rid of the pests.
Spray onto the leaves and onto the soil; you can even drench the soil with the water and alcohol solution if you notice that pests have overwhelmed your plant.
For more about dealing with these pests, you can head to this post about How to Get Rid of Mealybugs.
Now that we've covered the different types of Holiday Cactus, you'll be able to differentiate them at the garden centers and anticipate their arrival based on holidays and time of year! Share this info with your family and friends and you'll likely impress them with your new plant knowledge!