Perennial hibiscus is one of the most striking perennial flowers I've ever seen. If you'd like to fill your yard with large and colorful blooms, then consider leaving some room in your garden bed for perennial hibiscus. Commonly known as hardy hibiscus and rose mallow, this plant is low-maintenance in nature, making it easy to keep up with throughout the seasons.

Given its striking beauty, many people mistakenly believe hibiscus would be difficult to care for. If you've passed right by this plant in the garden nursery because you thought it might be too temperamental or fickle to grow at home, think again.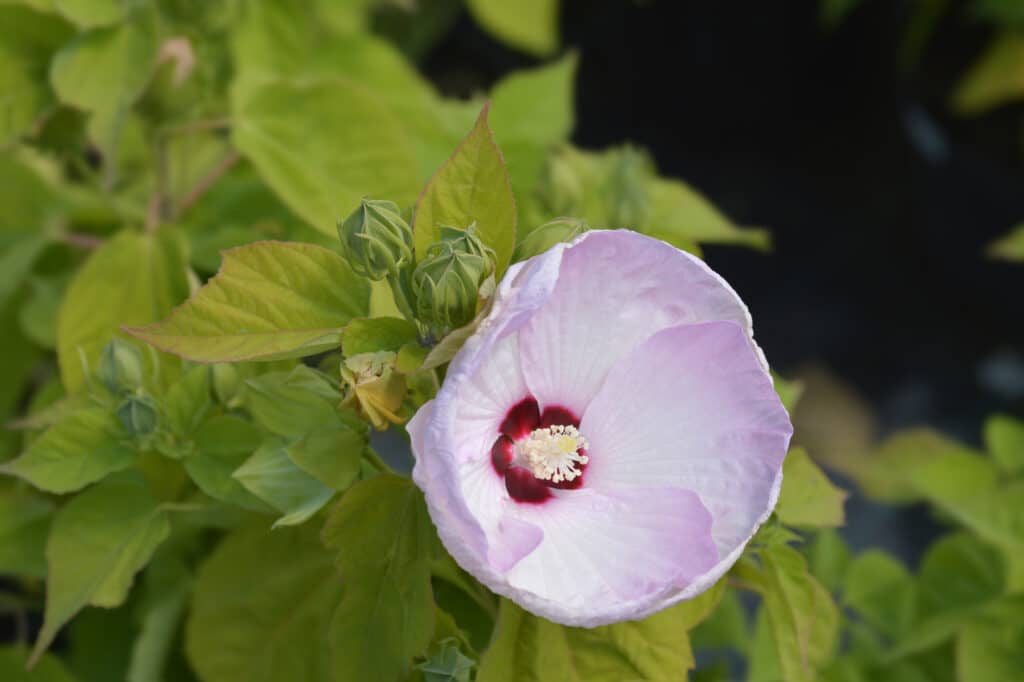 Hardy hibiscus is NOT a delicate plant and it will come back to your garden every summer as long as you meet its basic care needs. This means you won't have to repurchase or replant it every year!
Perennial hibiscus plants can serve as focal points in your garden or front yard, too, and can provide your home with a hint of the tropics even though it's not actually a tropical plant, unlike its cousin, tropical hibiscus.
This full-sun perennial is also an effective pollinator for bees and butterflies, making your garden even more beneficial to your local environment.
So if you find yourself craving pink flowers, red flowers, or even yellow and orange flowers in your garden, this low-maintenance perennial can oblige. Prefer something more understated? Opt for a hibiscus plant with white flowers!
If you live in zones 4-9, you can successfully grow this plant in your yard but let's go over a few care needs before you make your garden plans for the growing season.
Common Name: Hardy hibiscus, rose mallow, swamp mallow
Botanical Name: Hibiscus moscheutos
Plant type: Herbaceous perennial
Hardiness Zones: 4-9
Height & Width: 3-7 feet tall; 2-4 feet wide
Bloom Time: early summer to early fall
Native Area: North America
Sunlight Needs for Hardy Hibiscus
Before you even purchase any hardy hibiscus plants, you need to make sure you have the right light conditions, otherwise, you'll simply be wasting your time and money.
To grow hibiscus in your yard, you need a spot that gets full sun throughout the day.
A spot that gets too much shade throughout the morning and afternoon simply won't do; your plant won't be able to produce the beautiful blooms it's known for.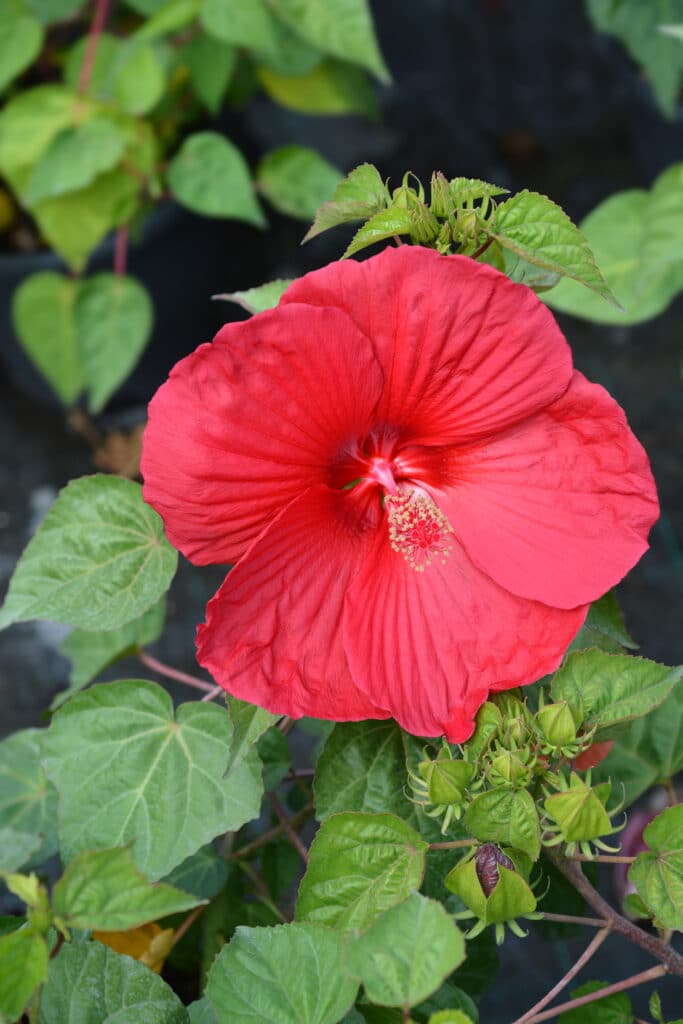 You see, hibiscus plants bloom from early summer to late summer and even into early fall. To promote new growth and produce large blooms, perennial hibiscus plants need a sunny location.
While they might appreciate light shade or partial shade in the late afternoon during hot summers and very warm weather, you'll see best results when you plant this beauty in a full sun location.
Soil Needs of Hardy Perennial Hibiscus
Once you've located a sunny spot in your yard where you can plant your hibiscus, you need to consider the condition of your soil.

Hibiscus performs best in rich soils, so well-drained, acidic soil that's amended with organic matter is the perfect planting medium for your plant. (Tip: to increase acidity, simply add a few handfuls of peat moss or garden lime to the soil).
Hibiscus also does well near water features like fountains or ponds because it's a wetland plant, meaning it thrives in wet soil. Just make sure that the soil is able to drain well and doesn't puddle for long periods of time (wet, moist soil does NOT mean water-logged!).
To test the pH acidity of your soil, you can use a soil pH meter. This convenient garden tool is widely available in garden centers, home improvement stores, and online; it's one of the handiest garden tools I own.
Simply stick the meter into the soil and read the meter – it'll show you how acidic the soil is. You should aim for a pH level of 6.5 to 6.8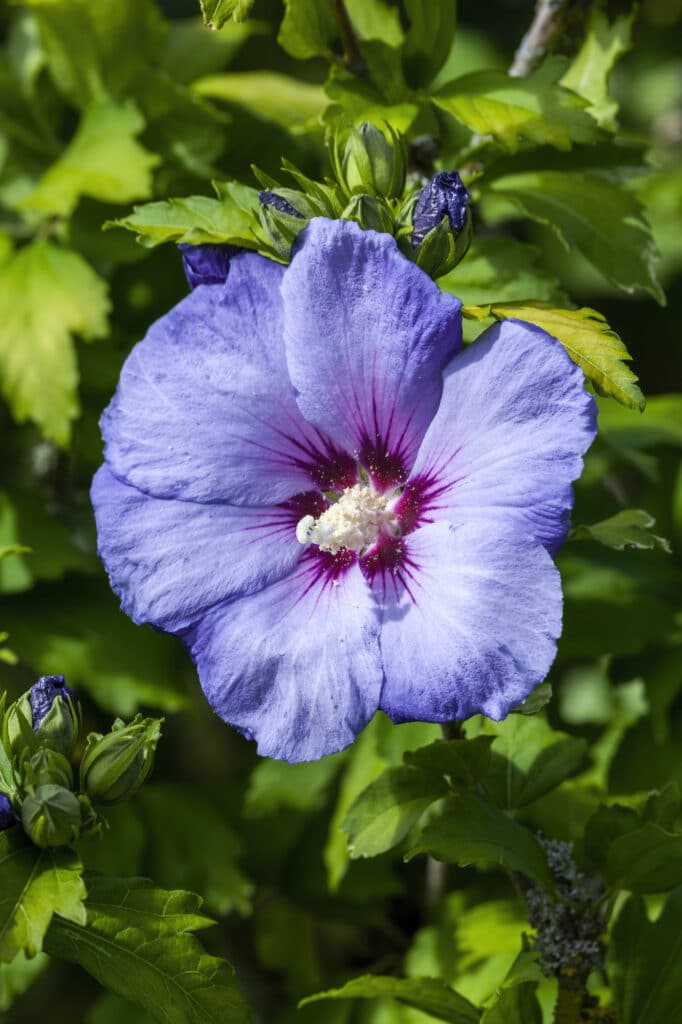 How to Plant Hardy Hibiscus Species
For your plant to perform as well as possible, you'll want to make sure to plant it correctly! You can plant your hibiscus plant at ground level in the soil or in a larger pot that you can move around if need be.
Once you get your plant from one of your local garden centers or from an online nursery, you'll want to take it out of its plastic bin or bag and place it into the ground, making sure to dig a hole that is twice the width of the root ball and only as deep as the root mass.
Place the root ball into the hole and fill the area with loose soil, pressing down to secure it in place. After planting, water the soil.
As far as when to plant perennial hibiscus, make sure to plant only after all frost has cleared in your area. Spring planting is best.
As with most plants, make sure your hibiscus has good air circulation; this can help prevent rot, pests, and disease.
How to Water Hardy Hibiscus
Since hibiscus thrives in moist soil, you'll need to keep on top of your watering schedule. To satisfy its needs and make sure the plant gets enough water, water deeply and generously at least once a week, and more during the hottest months of the year.
During hot summer days, you'll likely need to water daily or every other day, depending on how quickly the soil dries out.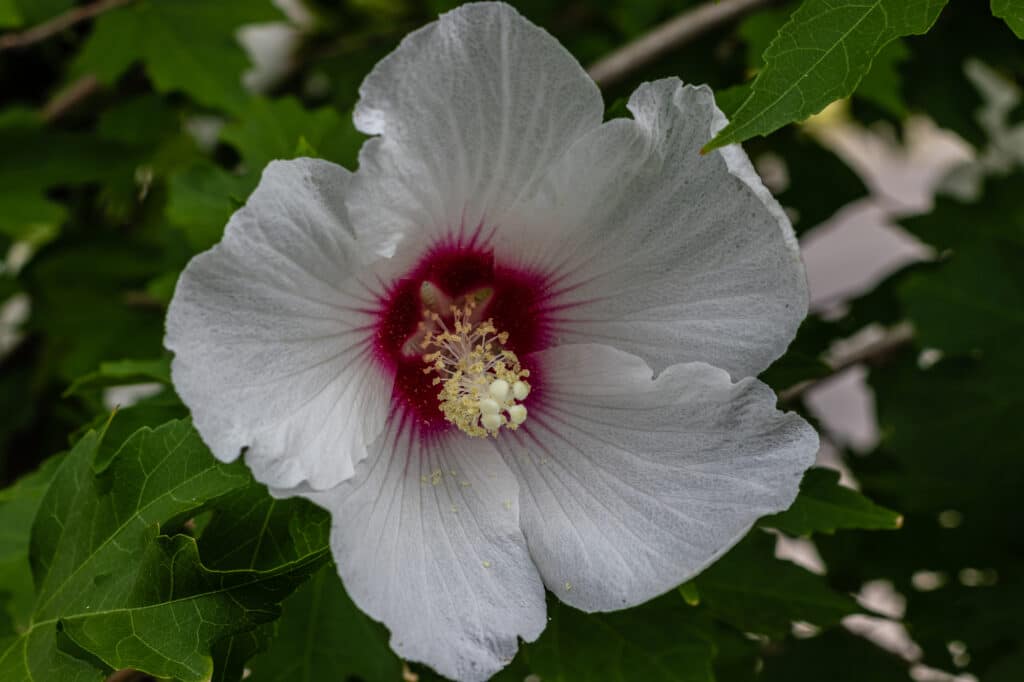 If the temperature reaches above 90 degrees, you should water your plants in the morning before direct sunlight evaporates the water from the soil.
Always keep in mind that letting the soil go dry is not a good idea; the health of your plant will suffer and you'll sacrifice its blooms if you let the plant go thirsty.
Also, make sure to water the base of the plant, not the top of the plant. This helps avoid damage to the foliage, flower buds, and flower petals and can also prevent diseases like powdery mildew.
Temperature and Humidity Needs of Perennial Hibiscus
Like other plants, hibiscus appreciates humidity and warmth. If you live in a climate with cold winters, make sure to bring your plant indoors when the temperature dips below 30 degrees and especially before the first frost.
Hibiscus enjoys temperate spring to early summer temperatures, so it doesn't like the harsh temps of colder climates during the winter season.
TIP: To increase the humidity around your perennial plant and houseplants, simply take a spray bottle filled with water and mist around and onto the leaves of the plant. You can also place a humidifier around your plants.
Fertilizer Needs
Hibiscus enjoys regular feedings during the growing season and it needs the extra nutrients in order to flourish and blossom. Diluted liquid fertilizer is a good choice and readily available at garden centers and online, too.
It's best to fertilize your plant with liquid fertilizer about once a week, according to instructions.
If you're using a slow-release fertilizer, you'll only need to fertilize at the beginning of spring and then again at mid-season during the summer once you start to see blossoms appear.
TIP: Always wet the soil first before you apply fertilizer. Never apply fertilizer to dry soil because it can burn the roots!
How to Prune a Hardy Hibiscus Plant
Thankfully, pruning perennial hibiscus doesn't involve any special tasks. Hibiscus plant will naturally die down in the winter but you can help your plant out by pruning it down to the ground.
This ensures your plant doesn't experience new growth during the winter, since this can harm the plant; you want rigorous growth to take place in the spring!
To prune effectively, you can use a lopper, pruner, and/or shears, depending on how thick the branches are and how mature your plant is.
That about covers it as far as perennial hibiscus care! If you're looking for more low-maintenance perennials to plant this year that are also fragrant, I recommend planting lavender or a lilac bush! And to get the most bloom times out of your garden, head to this list of long-blooming perennials!