Long-blooming perennials are a gift to any gardener, from the beginner gardener to the more advanced. Why? Because perennials come back to the garden year-after-year, saving you time and money!

The thing about perennials, however, is that they're known for their shorter bloom periods which means if you want an abundance of flower blooms in your garden, you need to choose and plant strategically.

Short bloom times is the main reason many people choose to plant annuals over perennials since annuals can rebloom for months on end and are also touted for their rich tones and colors.

The richest gardens feature both perennials and annuals (and succulents, too!) so making room in your garden for all of them can give you a more interesting yard.

The good news, however, is that MANY perennials bloom all summer long and even into fall.

That's right!

Long-blooming perennials give you the best of both worlds: long bloom times and plants that come back for more than two years.

Below is a list of perennials that are not only long-blooming but colorful and beautiful, too. Take a look and see if they fit into your garden plans!
Perennials that Bloom All Summer
1. Asters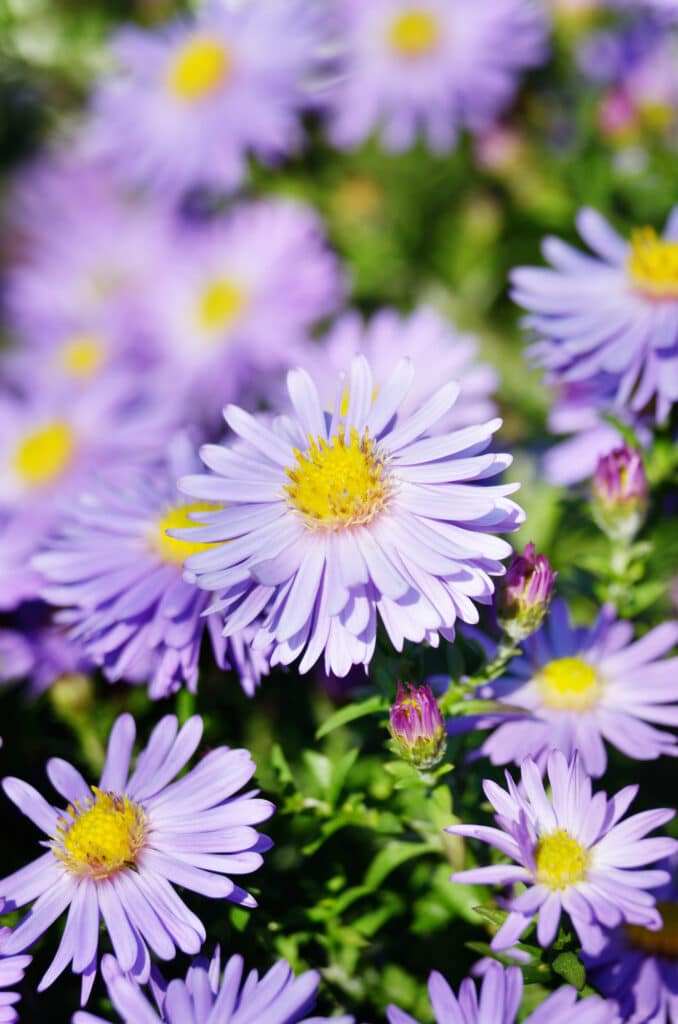 There's no competing with the rich purple tones of asters. It's a stunning flower! This daisy-like flower packs a serious punch when it comes to color and long-lasting blooms.
Asters aren't just beautiful, though, they're also great pollinators! They're the perfect perennial for attracting beneficial insects to your garden like bees and butterflies.

To encourage the plant to keep blooming, remember to deadhead faded blooms swiftly.


Zone: 3-8
Light Needs: Full sun (at least 5 hours a day) to part sun
Water Needs: Keep evenly moist in well-drained soil

2. Yarrow (Achillea)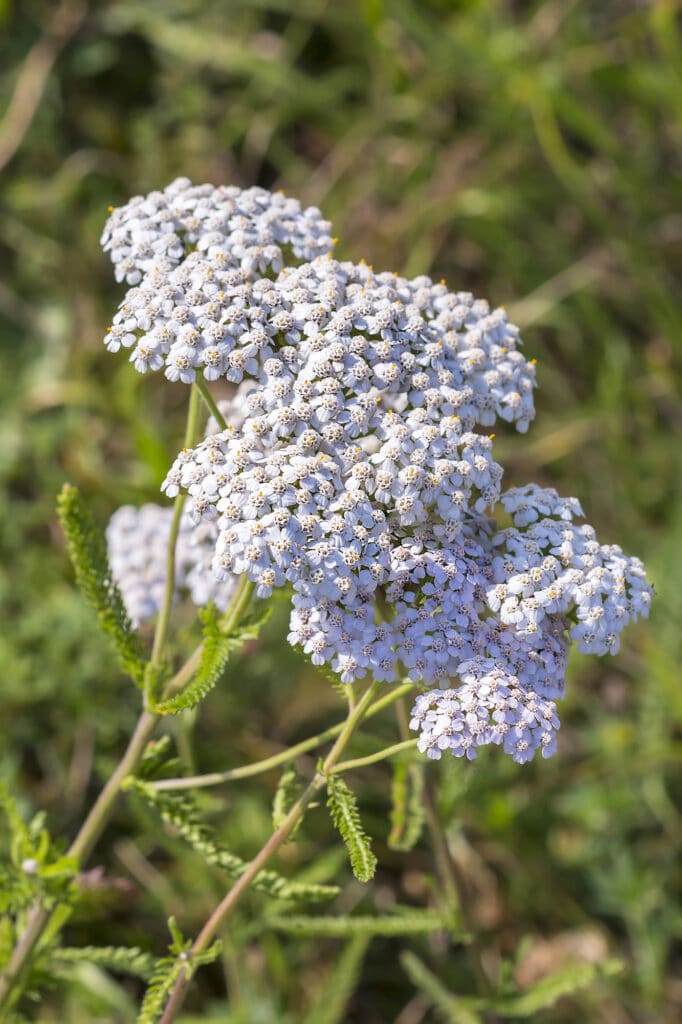 Yarrow is one of those perennials that you'll see on so many lists like this one. Why? Well – because it's a low-maintenance, hardy, and dependable perennial.
It's so easy to grow that it's perfect for gardening beginners.
Yarrow features long thin stems and clusters of tiny little flowers that are beloved by beautiful butterflies.
It also comes in different shades, not just white. You can find this long-blooming perennial in shades of red, pink, yellow, and other soft pastels.
Yarrow can be invasive, so plant wisely.


Zones: 3-9
Light Needs: Full Sun
Water Needs: Drought-tolerant. Water when the soil is dry.
Bloom Time: Summer
3. Lavender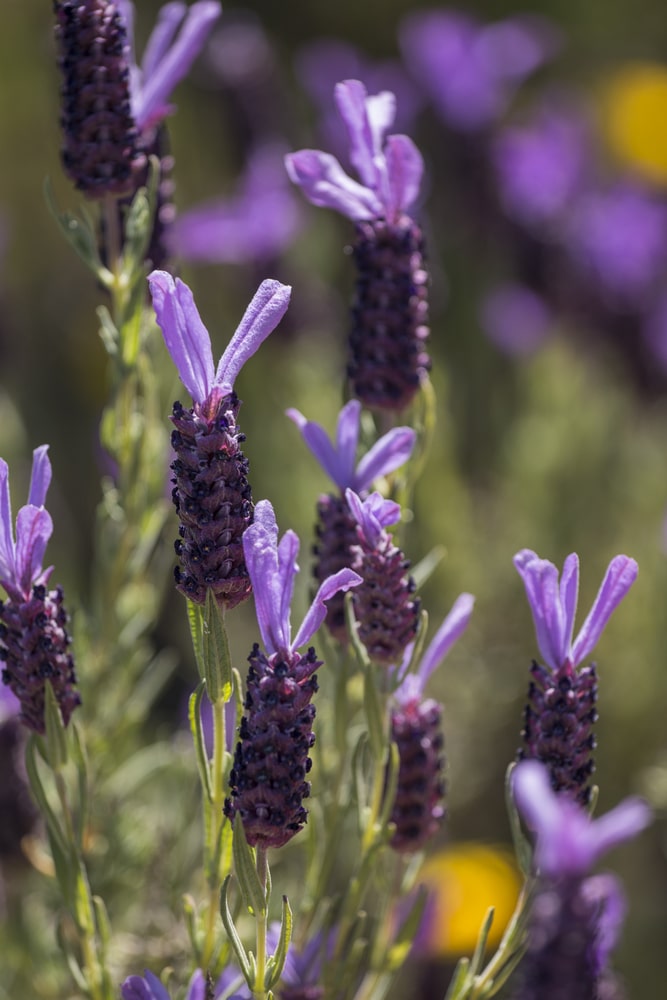 English lavender isn't just hardy, long-blooming, or great for bees, it's also fragrant and perfect for homemade goods like scented pillows and soap!

There are different types of lavender but English lavender is the one to get if you crave its fragrance.

Lavender is known for its drought-tolerance but keeping the soil daily moist is a better idea. When too dry, the flowers will start to droop.

Zone: 5-9
Light Needs: Full sun (at least 5 hours a day)
Water Needs: Water when soil feels dry.
4. Echinacea aka Purple Coneflower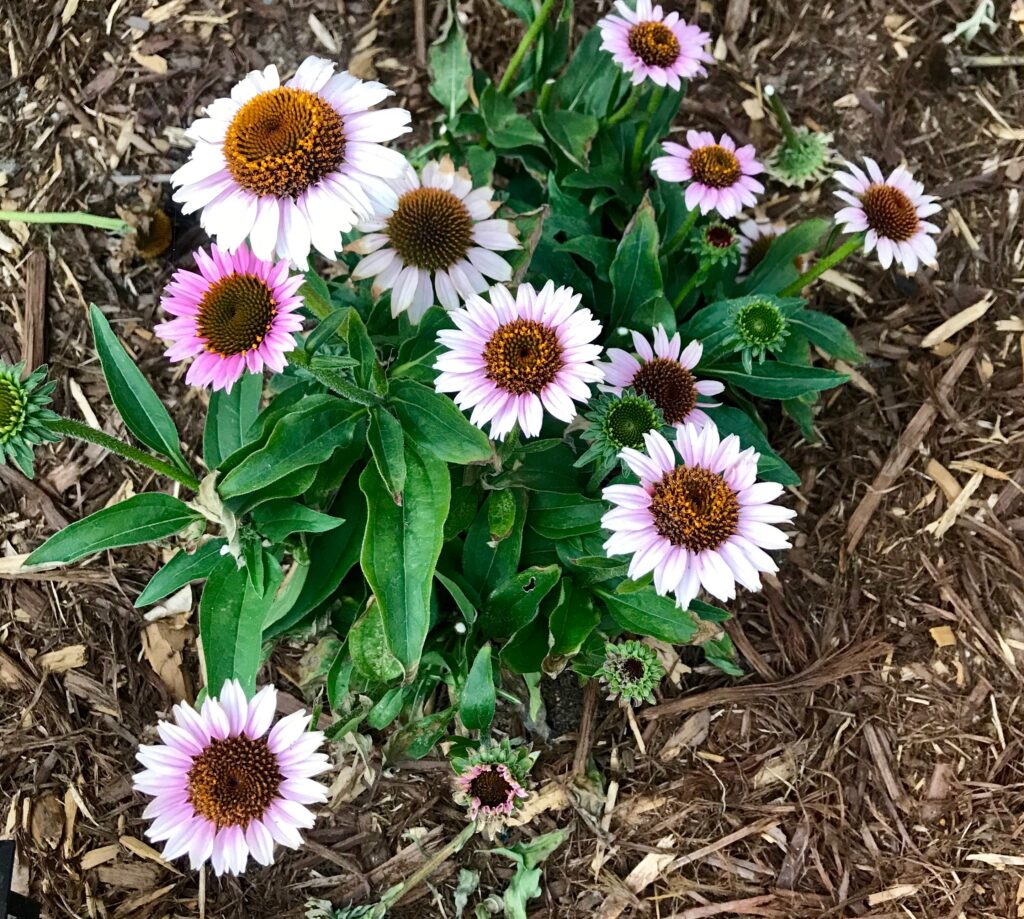 There are many varieties of Echinacea but the most commonly known is the Purple Coneflower.

It's a tough plant but it is pretty susceptible to powdery mildew, which can take out the plant.
My advice is to avoid overhead watering and aim to water the soil directly while trying to keep the leaves dry. Don't plant them too close together so you can allow better airflow between the plants.

Echinacea features flower petals that turn downwards, making them one of the most unique and long-blooming perennials around.

You can cut the dead blooms off to encourage more blooms but it's a nice idea to leave the dead blooms alone towards the end of the summer because goldfinches love feeding off of them during that time.

This is a wonderful plant for mother nature as bees and butterflies love them too!

If you're planning to grow Echinacea in your garden or in containers, this post gives some great growing advice for how to care for purple coneflower.
5. Astilbe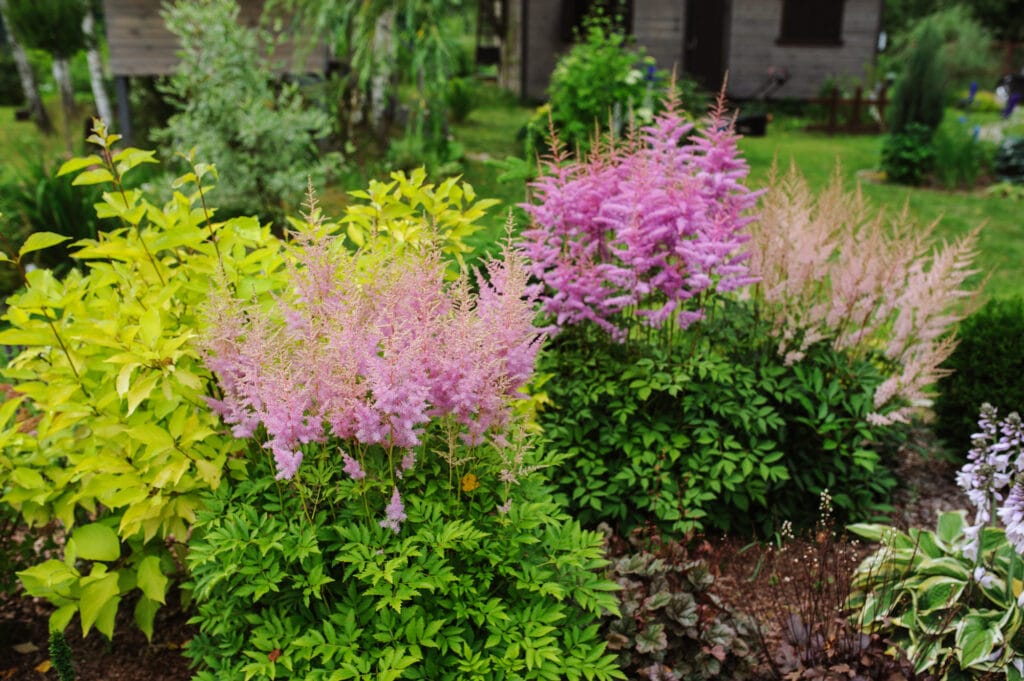 Astilbes is one of the most unique perennials on this lis. It's a very colorful plant that blooms all summer and it pairs well with other long-blooming perennials that feature more traditional flower blooms.

Astilbes thrives in the shade with morning sun, so this is a great option for shade gardens or shady areas of your yard that you need to fill in.

For an in-depth growing guide, head to this post about how to grow astilbes.

Zone: 4-9
Light Needs: Full sun (at least 5 hours a day)
Water Needs: Keep evenly moist in well-drained soil. Don't let the soil dry out.

5. Black-Eyed Susan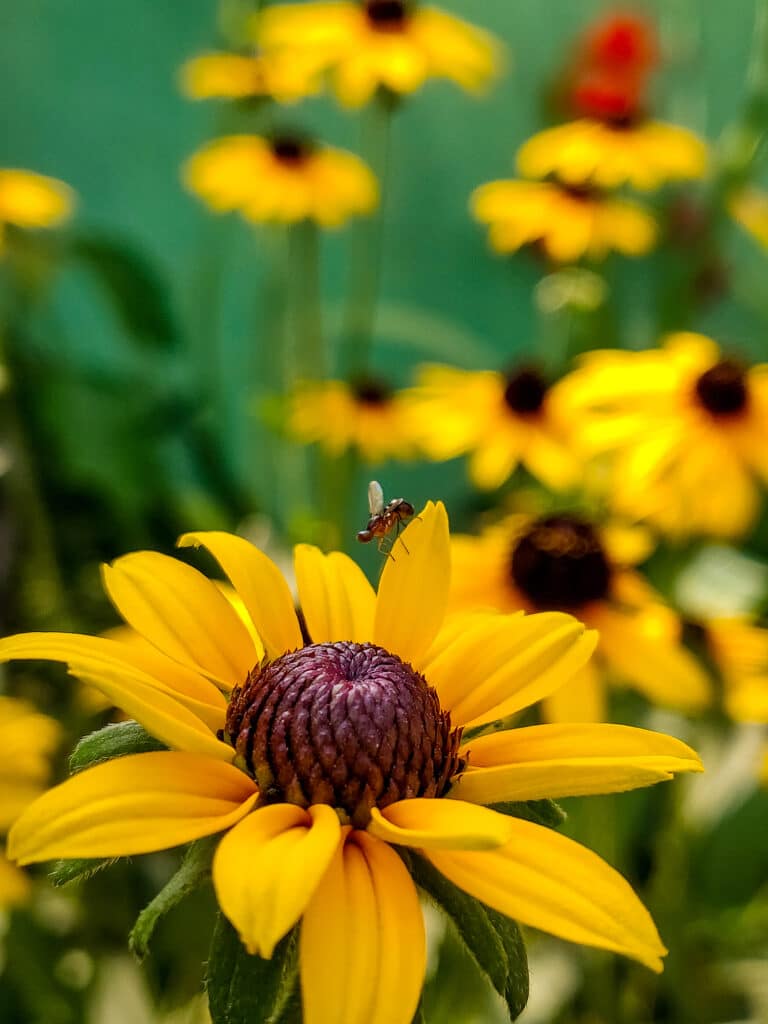 We can't talk about perennials without mentioning Black-Eyed Susans! It's a wonderful choice for those who love pops of yellow and orange blooms and rich foliage.

They're pretty easy to care for and the blooms attract butterflies to the garden. Black-eyed Susans are pretty easy to grow from seed and they bloom from around June to September.
This long-blooming perennial isn't a low-growing one. It will grow between one to three feet tall so if you're craving height in your garden, Black-Eyed Susan is a good choice.

Zone: 3-9
Light Needs: Full sun or part sun
Water Needs: Keep evenly moist in well-drained soil

6. Coreopsis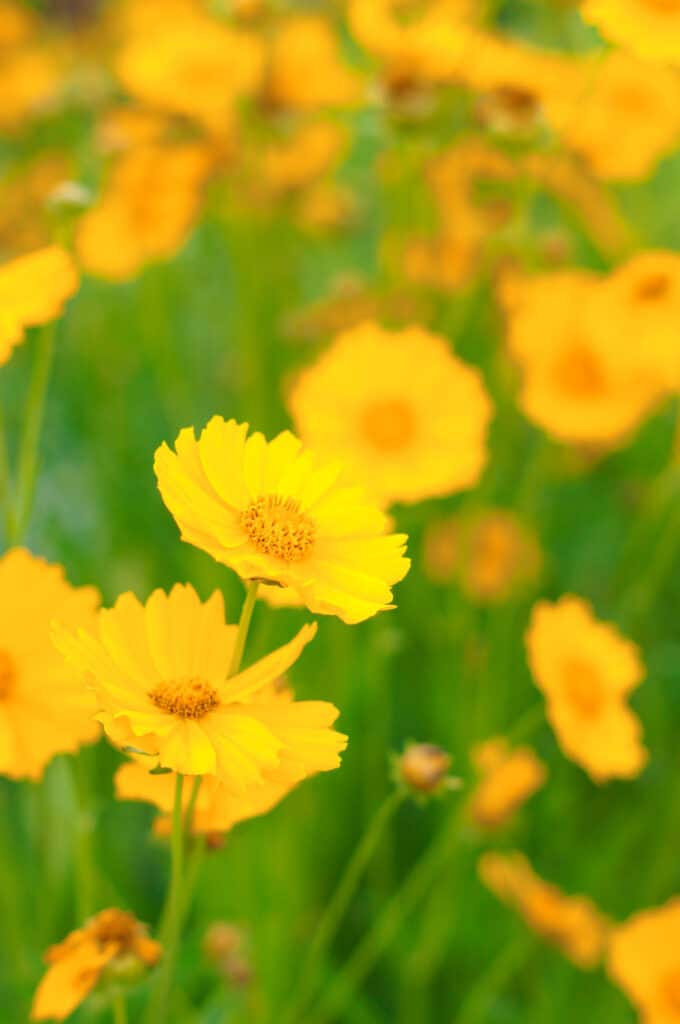 Here's another long-blooming perennial that is ultra-low-maintenance, Coreopsis, also known as tickseed, is another daisy-like flower.
It's really one of the hardiest flowers you can grow so it's a perfect choice if you're a gardening beginner or just getting started with flower gardening.

I think pops of yellow in the garden is non-negotiable but you can find Coreopsis in other colors, too, like red and pink.

If you don't want to plant coreopsis directly in the ground, it works well in containers, too, and most soils will do; it's not a picky flower.

Zone: 4-9
Light Needs: Full sun
Water Needs: Water when soil is dry
7. Autumn Joy Sedum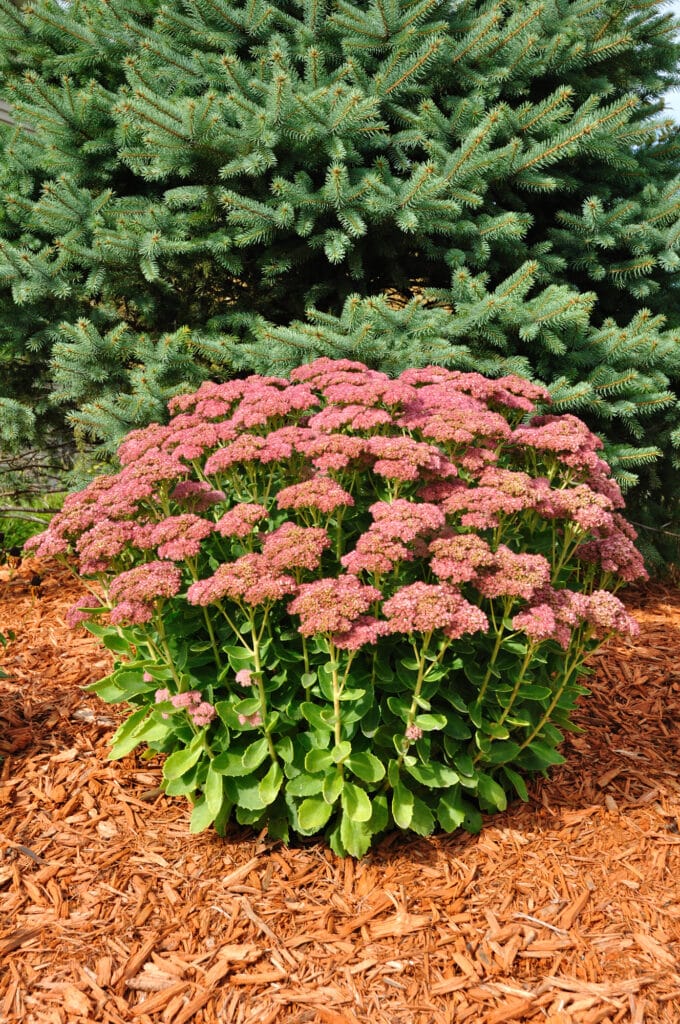 As a big fan of succulents, Autumn Joy Sedum has a special place in my heart because of its longevity, resiliency, color, and height. This is a true garden gem.

This sedum variety is one of the long-blooming perennials on this list and can bloom far into fall. You can use Autmn Joy Sedum in containers, too, as a "thriller" because of its height.

Zone: 3-8
Light Needs: Full sun
Water Needs: Water only when the soil is dry. Sedum appreciates well-draining soil.

8. Russian Sage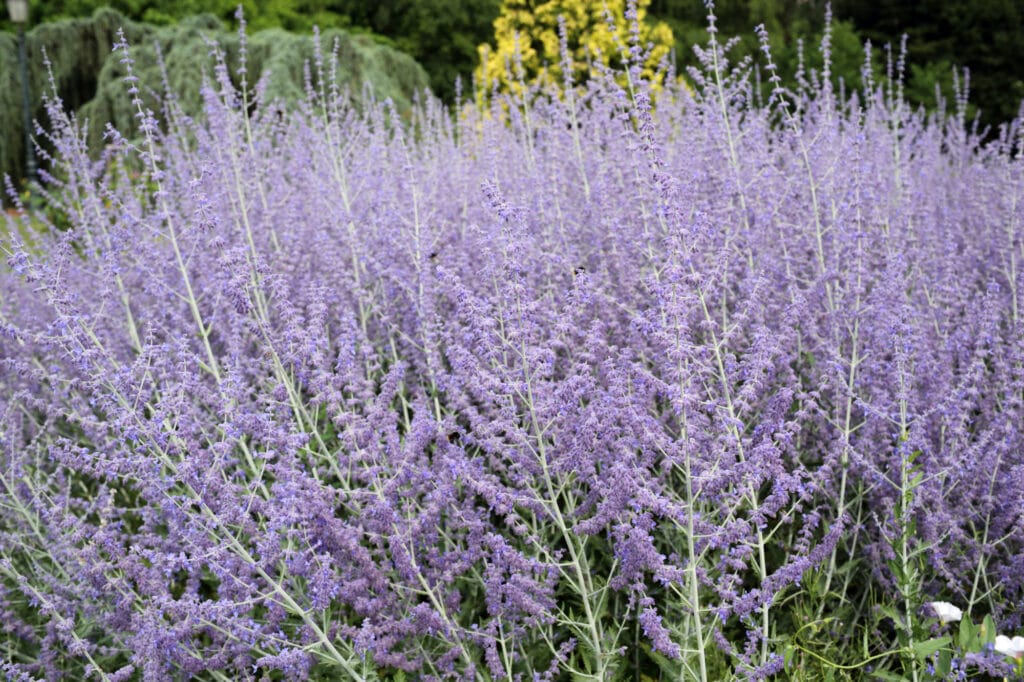 Gardens aren't just about flowers and traditional flower blooms. Shrubs and foliage play a big part in landscape design and Russian Sage is among the best for effortlessly filling bare spaces.

The best part? The tiny, lavender-colored flowers that grow on tall, thin stems. It's a real beauty and a hardy one that's also drought-tolerant!

Grow it along walkways or in areas that could benefit from tall plants. I love Russian Sage in front yards; it's great for curb appeal!

Zone: 5-10
Light Needs: Full sun (at least 5 hours a day)
Water Needs: Thrives in dry soil. Let soil dry out between waterings once established.

10. Helenium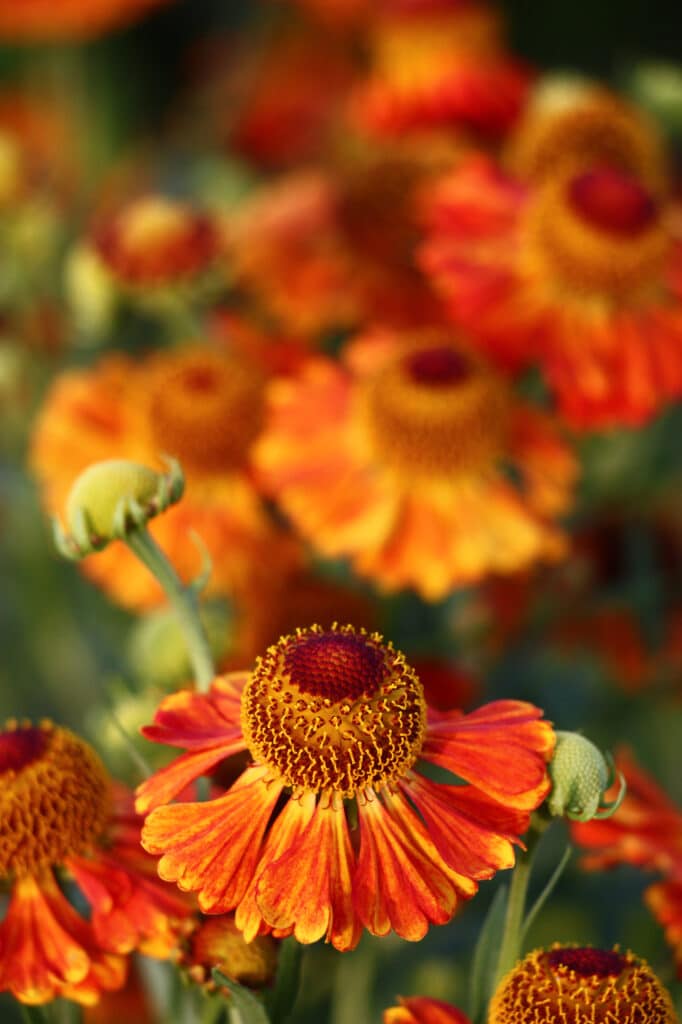 Here's another daisy-like flower that is seriously long-blooming and colorful. It features downward-facing petals just like Echinacea, with a large center cone.

This perennial grows all in late summer and well into fall.

It's self-sowing and grows in clumps, but can also perform well in containers. To encourage blooms and to prevent the plant from going to seed, it's important to deadhead often.

Heleniums are loved by bees and pollinators, too.

To get the best color, make sure they get plenty of sun and keep them well-watered, especially during heatwaves.

Zone: Most varieties are 3-8
Light Needs: Full sun
Water Needs: Keep evenly moist in well-drained soil



11. Iris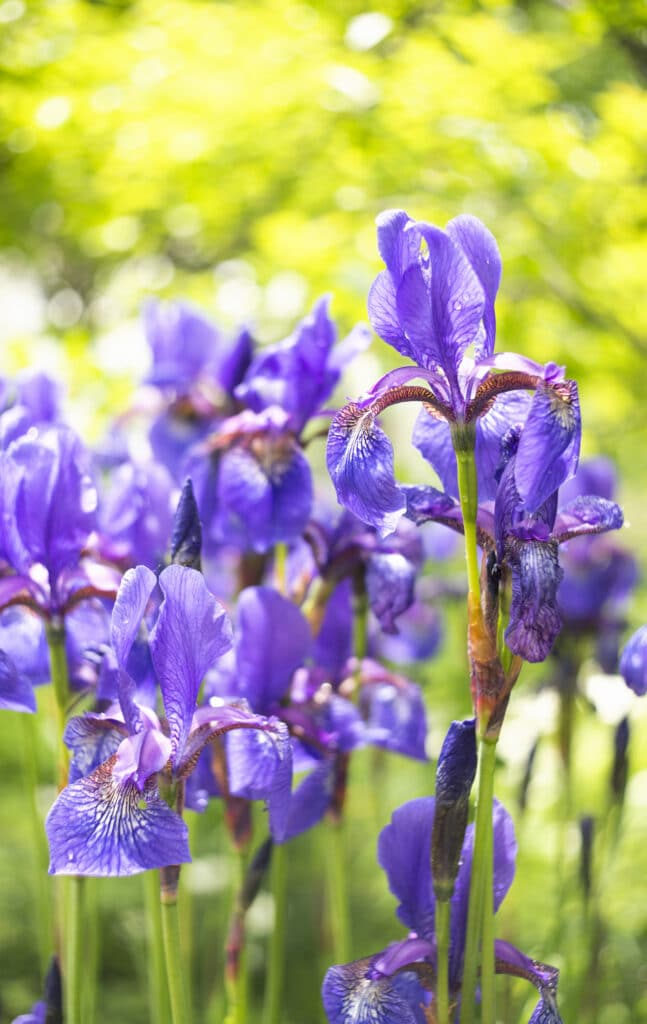 One of the prettiest and most popular perennials is the Iris.
Its looks may be deceiving but it's actually very low-maintenance and grows in the wild all across the globe.
Zone: 5-9
Light Needs: Full sun
Water Needs: Keep evenly moist in well-drained soil
12. Garden Phlox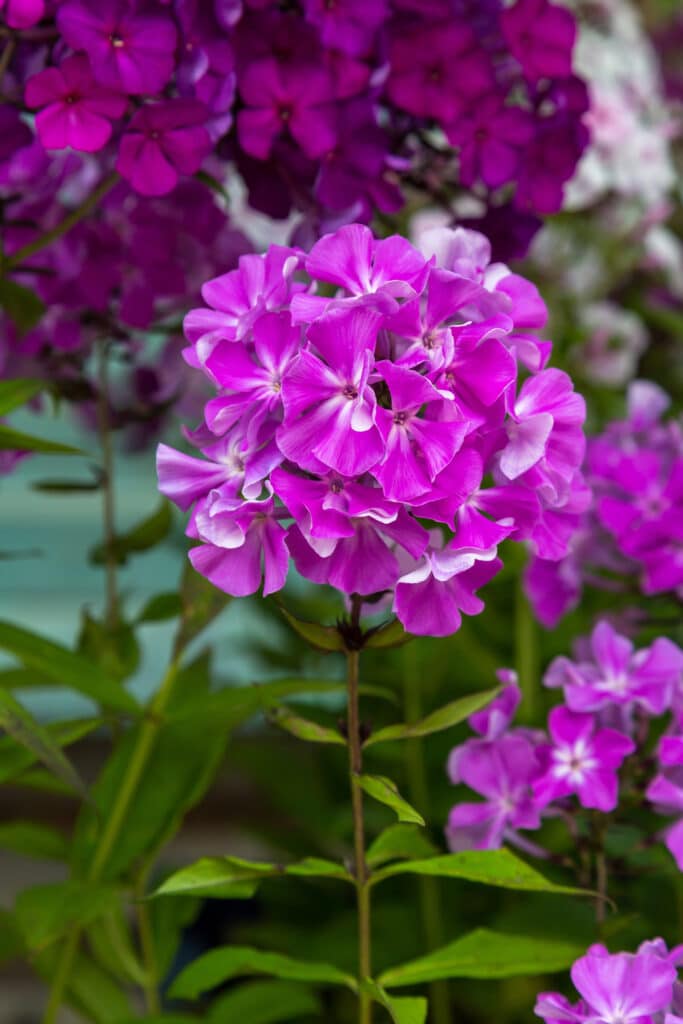 Phlox is an old garden classic. It's reliable, pretty, and great in both containers and in the landscape.
Garden phlox features large fluffy clusters of flowers and they can be found in pastel shades of pink, white, and blue.

They grow on tall stems so they're the perfect flower if you're looking for height; its also one of the easiest perennials to grow.

It blooms from mid-summer to early fall.
Avoid overhead watering and provide good air circulation. Enjoy the hummingbirds, too, because they love this flower!

Deadheading often encourages new blooms and stops them from reseeding.

Zone: 4-8 (Double check the variety to make sure it can grow in your zone)
Sunlight Needs: Full sun, partial shade

Water Needs: Average water in well-drained soil